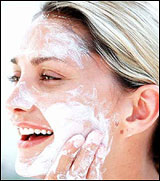 Short on cash or want a beauty solution fast? Zoi Constantine has homemade beauty products...

Why spend money on beauty products when you can make them at home? Well, it sounds like a logical enough question (thanks, dad), but for most of us the prospect of spending the evening grating apples and mixing honey concoctions isn't highly appealing when you can just pop into the nearest pharmacy or salon and purchase all your beauty products in a fraction of the time (and with none of the accompanying mess).

However, for those who are into homemade remedies - or for others who like to dabble in quasi self-sufficiency, there are many beauty products which you can make from the left-overs in the fridge or cupboard. From carrots to sour cream, most fruits, vegetables and dairy products can be put to good use if you feel like pampering yourself with a home facial or scrub.

However, remember not to assume that natural products have only beneficial qualities - they can be powerful and so you should be aware that if you have particularly sensitive skin, or are allergic to a particular food, you may react.

Different foods are recommended for different skin types and there are many fruits and vegetables that have remedial effects for particular ailments: banana is said to have moisturising qualities; ground oats are highly absorptive, hypoallergenic and softening; cream and milk are skin-softeners; and nutmeg is said to have antiseptic qualities.

If you want to turn your bathroom into a beauty spa, there are many ingredients that you can easily purchase or even grow at home: marigolds picked just as they begin to bloom act as a natural antiseptic and, when mixed with oil, can relieve cuts, burns, itchy skin and chapped lips.

Homemade lavender oil makes a great skin softener - fill a jar with lavender flowers and gently crush them with a mortar, then add enough olive oil to cover, place the covered jar in the sun and shake every day for a few weeks before straining the oil which can then be massaged into your skin or added to your bath.

Lettuce is a vegetable not commonly associated with skincare, but when boiled and left to cool, the residual water can be added to you bath to soothe and relieve sunburnt skin.

Here are a few more recipes that may entice you to save a few dirhams and be your own beauty
therapist:

For oily or troubled skin
Apple Face Mask Grate one medium-sized apple and mix with 5 tablespoons of honey. Apply to the face and neck. Leave for 10 minutes then rinse off with cold water.

Carrot Facial Mask Steam or boil 2 to 3 large carrots, remove when soft and mash. Mix in 41/2 tablespoons of honey, wait for the mixture to cool and apply to the skin. Leave for 10 minutes before rinsing off with cool water.

Clay Mask Place 5 dried bay leaves in a cup of boiled, distilled water and leave to cool. Slowly add the strained bay leaf water to 4 tablespoons of French clay (should be available from pharmacies), until the mixture is quite thick. Apply to the face and neck and leave for 15-20 minutes. When dry, rinse off with warm water.

Cooling, refreshing, pampering
Strawberry and Cucumber Mask Blend half a cucumber, 1 tablespoon of yoghurt, a few fresh strawberries and 1 teaspoon of honey in a food processor, apply to the face and leave to dry. Gently wipe off with a damp wash cloth.

Peach Facial Cook 1 medium-sized peach until soft and mash with a fork. Add 1 tablespoon of honey and enough oatmeal to make the mixture thick. Apply to the skin and leave for 10 minutes, then rinse off with cold water.

Almond Face Mask Use a blender or food processor to grind 1 tablespoon of almonds into a fine meal. Mix in 1 tablespoon of honey and 1 egg white and apply to the face. Leave for 15 minutes and gently wipe off with a damp cloth.

Yoghurt Face Mask Mix 11/2 teaspoons of honey, the juice of half a lemon and 1 small carton of plain yoghurt, then stir in 1 whipped egg white. Apply the mixture to the face and leave for fifteen minutes to set. Gently wipe off with a damp wash cloth and splash your face with water.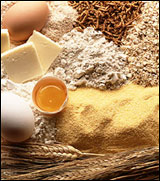 Oat and Honey Milk Bath Place half a cup of rolled oats, quarter of a cup of powdered milk and 2 tablespoons of honey in a natural fabric bag (preferably muslin or cheesecloth). Hang the bag under a running tap, as your bath fills. Add lavender flowers for added relaxation.

Anti-ageing
Honey Firming Mask Whisk together 1 tablespoon of honey, 1 egg white, 1 teaspoon of glycerin (available from Spinney's supermarkets and some pharmacies) and enough flour to form a paste (approximately a quarter of a cup). Leave for 10 minutes and rinse off with lukewarm water.

Anti-Ageing Facial Mash together 1 banana and half a tub of double cream. Pierce 1 vitamin E capsule into the mixture and mix well. Apply to the neck and face and leave for 10 minutes before removing with cotton wool balls.

Skin Savers
Acidic foods that should be used in moderation and not on sensitive skin:
Lemon

Grapefruit

Apples

Strawberries

Lime
Beneficial for most skin types:
Peaches

Apricots

Tomatoes

Grapes

Cumcumber

Bananas

Watermelon

Persimmon
To moisturise dry skin:
Carrots

Cantaloupe

Avocado

Honeydew melon

Iceberg lettuce