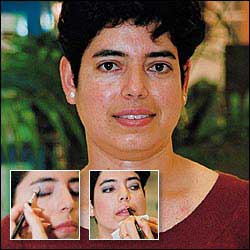 This month, Face Beauty Advisor, Hazel Mills provides makeup tips for the busy working woman who usually sports a fresh-faced look.

Maggie Andrade works as a personal assistant with one of the leading hotel chains in Dubai, and with her busy work schedule Maggie tells me that she never finds the time to apply make up.

Slapping on a bit of colour can be quick, taking literally five minutes in the morning, and with the excellent ranges of products on the market, complexions are both beautified and protected. The pressures of professional careers and time consuming school runs may force makeup to take a back seat, but when such a high percentage of ladies arrive at work 'au naturel', you wonder whatever happened to the feel good factor and self-confidence that make-up can provide.
As a make-up professional up for a challenge, the most successful makeovers happen on ladies who profess never to wear "anything other than mascara".

The look that I decided to create for Maggie was therefore subtle, but still more glamorous than the average daytime look.

With her beautiful dark eyes and brighter than white smile, I knew that Maggie could take quite a dramatic range of colours.

Vincent Longo, make-up artist to stars such as Celine Dion, Cindy Crawford, Linda Evangelista and Claudia Schiffer, has evolved a designer brand, which is on the cutting edge of cool.

Since Maggie has a blemish free skin, I only needed to use a spot of concealer in the under eye area.

TIP. When applying concealer always use just one shade lighter than the foundation. If the concealer is too light or white, it can create a 'grey' look on any dark under eye circles.


The purpose of a foundation is to cover any imperfections and create an even skin tone to work with. 'Water Canvas' was an ideal base to use on Maggie's skin, and the smooth effect is evident from the before and after photos where her skin remains perfectly natural and healthy.

After a light dusting of powder to set the foundation, we were ready to begin with the eyes. Lavender Mist, Black and White Frost are part of a trio compact of eye shadows. I applied the lightest shade first to the whole eye area up to the brow and then blended the two darker colours on the lid area to create a light smoky look, finishing off with the darkest shade to the outer area of the lid.

I applied black pencil eyeliner to the upper, outer and lower eye, making sure to keep it blended to avoid any harsh, heavy lines that tend to age. The eyes were completed with the application of two fairly light coats of black mascara.

The versatility of this type of eye makeup is convenient. You can upgrade it to an evening look by applying one or two more coats of mascara to widen the eye and dramatize the whole look.

For the blush, I applied the Duo Ultra blush, sweeping gently over the cheeks to create a natural flushed feminine look.

Remember, today's makeup trends see blush as a natural flush to the face and not the harsh pink streaks that were once fashionable.

TIP. To apply blush, smile first and apply in sweeping light circular movements onto the cheek area, blending into the temples.


The lipstick that I chose for Maggie was in the same colour family as the blush. I used a lip stain in Madison with a complementing lip pencil. With a final application of Vision Lip Lux gloss, Maggie was ready for any challenges that came her way.

Products Used
VINCENT LONGO list of products exclusively available at Faces, Al Ghurair City, Debenham's in Deira City Centre and the new store in Sharjah's Sahara Mall.

Water Canvas Base (golden beige), Dhs146

Water Canvas crème to powder foundation, Dhs154

Crème Concealer (amber), Dhs58

Trio eye shadow (lavender mist), Dhs73

Glimmer eye shadow (black), Dhs58

Duo Blush (ultra), Dhs66

Waterproof Mascara (black), Dhs58

Eye Pencil (black), Dhs55

Lip Pencil (roseberry), Dhs55

Madison Lip Stain, Dhs66

Vision Lip Lux Gloss, Dhs58



Courtesy: Aquarius