Joanna Langley and Linda Adra Yamak
Every newborn baby brings with it a vast amount of pleasure, love and responsibility. But what if you have double the load of nappies, colic, feeds and broken nights? AW speaks to six mothers coping with the double delights and dilemmas of twins. Interviews by Joanna Langley and Linda Adra Yamak

During my first pregnancy I gulped down any readable material on childbirth. I read, analysed, and I'm embarrassed to add, even memorised at times. I'd stop first-time mothers in supermarkets, on the street, at work - anywhere, and bombard them with questions. I'd talk to my own mother over the phone for ages trying to understand the whole 'process' of mothering. Once my delivery date came, man did I think I was ready. I took my carefully packed suitcase, put on the bravest face I had, and went to the hospital. As soon as I went into labour, I found out how lame all my previous efforts were. No, I was not prepared. I couldn't have been prepared for this, not in a million years.

Any first time mother will tell you that nothing can prepare you for the bittersweet pain of childbirth. No one can prepare you for how tiny your baby seems when you first hold him in your arms, the poignant intimacy of the breastfeeding experience, those endless sleepless nights, the first time your baby gets sick and the fierce overwhelming feelings that come along with the territory.

It turns out that, yes, twins are twice the pain during childbirth and twice the work when it comes to child rearing, but they are also twice the love and twice the joy.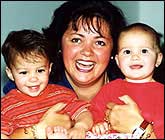 "The stress of not being able to have a baby was incredible. I always had the feeling that I was destined to be a mother." Paula Le Flohic is the mother of Lucie and Max aged 15 months

"My husband Chris and I were married in 1996 and had always dreamt of having a family, but it wasn't until we started trying for a baby that we realised there were problems. Initially, I suffered from several miscarriages and then found out that one of my fallopian tubes was blocked. We lived in the UK for the first year of our marriage, and then moved to Dubai. It was then that I decided to try out alternative medicine techniques to solve the problems.

"I literally visited every possible avenue in the hope that it would make me conceive. I tried reflexology, Chinese medicine and acupuncture to name a few. Every time I heard through friends that they had 'tried this method and become pregnant' I rushed out and did the same thing - but it was all in vain. The stress of not being able to have a baby was incredible. I always had the feeling that I was destined to be a mother. I had worked as a nanny, cared for friends babies and people always commented on 'what a good mother I would make.' It was impossible to believe I would never be in such a position.

"Then, in the summer of 1999, things really came to a head. I felt as though I had failed my husband because I hadn't been able to give him a child. The guilt was so bad that I even told him to leave me and find another wife with whom he could start a family - after all, it was my fault - not his. Luckily, Chris was incredibly supportive. He told me he had married me for me - not for my brooding ability. We had spent
Dhs 50,000 on the treatments I'd been having and I was at the end of my tether. We decided to get away to stop thinking about the problem and took a three-week holiday in the US.

"That Christmas, my father came to stay. Previously I had always put on a brave face when he asked me how my fertility treatment was going - but this time I broke down and told him everything. There were only two options left, IVF and Gift - which were incredibly expensive; Dhs 20,000 for just one try. I didn't feel as though I could possibly spend so much money on a treatment that would be one-off and still only had a 35 per cent chance of falling pregnant. My father was shocked and upset at my predicament. He hadn't realised how much having children meant to me. He, my mother and other members of the family decided to club together and pay for the treatment.

"We opted for the Gift method rather than IVF because the success rate was slightly better and it was more natural. Gift works by taking the extracted egg and sperm, and placing them together in the fallopian tube so that fertilisation can happen inside the body.

"The treatment lasted 20 days, during which time I was given a series of very expensive hormone drugs to get my body ready for pregnancy. It was an incredibly stressful time because just three days before I was due to have the final implantation of the egg and sperm, there was a problem with the bank transaction payments and it looked as though everything would have to be called off. I was so angry with the bank that I marched in there and staged a sit-in until the money was found. I was determined not to go through so much stress and anxiety for nothing.

"Finally everything went according to plan, and after the implantation I was told to go home and wait. That was difficult because with every twinge, or sense of nausea I was torn between hoping I was pregnant, and not daring to be happy in case it hadn't worked.

"Then, the morning of the big date came, and Chris and I went back to the clinic for a pregnancy test. We held each other's hands as the line turned blue and nearly jumped for joy. But the news was not completely confirmed. We had to wait for the results of a blood test to truly determine whether I was pregant. I went to the office and waited.

The results were due to be through that afternoon. It was the longest morning of my life. At 2pm I called the doctor, but he said I'd have to wait another half an hour. By 2.30pm I was almost bursting with anticipation. When I called I could hear his voice in the background as he chatted to the nurses before taking the phone. He started with trying to explain in scientific terms what the test result was but I just interrupted him because I wanted to know either yes or no.

Then he told me calmly that my hormone reading was at 180 which was extremely high. 'It means you're almost certainly going to have twins,' he said. I just couldn't believe my luck. We'd been trying so hard for so long to have a child that having two babies was incredible. I'll never forget that moment.

"At five and a half weeks, I had my first scan that proved we were having twins. The pregnancy seemed to going well and I was taking drugs to help me hold onto the babies. Then, at 12 weeks, we had some disastrous news. I wasn't carrying twins, I was carrying triplets - but one of the babies was lodged in my fallopian tubes. There was nothing that could be done - even though it was fully developed.

The only thing that would save the other two babies and my life would be to abort the third child. I opted to have a potassium injection into the baby's heart rather than have it surgically removed because of the risk to the other two. It meant that I would certainly never have the chance to have children naturally because both my tubes are now blocked - but one is with my baby so it's not really so bad.

"The whole procedure was carried out so quickly that I didn't have time to really dwell on it. I suffered from tremendous amount of pain afterwards because there was a lot of internal bleeding as a result of not removing the tubal baby. For the first few weeks after the abortion, I could hardly breathe - and moving about was agony but I had the birth of the twins to look forward to, so that kept me going. I went into labour at 37 weeks and opted for a Ceasarian section. Max and Lucie were both delivered safely.

"After the birth, I realised that I had spent so much time being concerned about the pregnancy, that I hadn't prepared myself for the practical reality of twins. I'd bought a few things, but there was so much more that needed to be done. We needed two cots, two strollers, two car seats - the list was endless. Luckily, Chris was extremely supportive from the word go and we muddled through those first few weeks on auto-pilot.

"We shared the babies at night, and I decided not to breast feed because he wanted to be involved in every aspect of their care. It was tough but very rewarding. One of the things that really helped me was talking to other mothers with twins. They gave me useful tips on how to save time, like making up all the baby bottles in the morning rather than throughout the day. At first I found it very difficult to go out - but slowly we adapted to the demands, and things got easier.

"I would love to have more children, but I wouldn't go through the treatment again because it's so expensive. If we are ever financially secure enough to think about enlarging our family, we shall probably adopt. Although you need a tremendous amount of money for this too, I do feel it would be our responsibility because we have been so lucky and have so much love to give. There are so many children out there already who need loving families and it would be a chance for us to give something back."

"My husband was the very first person to change their nappies and feed them because I was still recovering from the Ceasarian." Suha Albadri Ghafari, mother of Tamara and Kareem, aged two and a half. "I always wanted twins, and because it is common in my family the possibility was always at the back of my mind. But when the doctor told me I was carrying two babies, it was still a great surprise.

"I can remember looking at the ultra-sound screen and thinking that there was just a double image of one baby. The nurse had to assure me there were two heart beats before I would believe her.

"I was living in Montreal at the time and had what they call a text-book pregnancy. I was monitored every two weeks and they were delivered full-term, which is quite unusual for twins.

"I had a Ceasarian because the doctors feared I wouldn't have enough amniotic fluid for a natural birth, and then, at the last minute, Tamara, who would have been the second baby to be born, turned upside-down and would have been a breach delivery.

"The difficulties really began after the babies were born. In Canada, you stay in the hospital for a maximum of two days after the birth and then you have to go home. That's hard enough with one baby - especially if it's your first, but with two, the responsibility is enormous. Luckily, my husband Mohammed was amazing. He was the very first person to change their nappies and feed them because I was still recovering from the Ceasarian.

"When we got home, I was assigned a nurse who visited me every week to check on the health of the twins, which helped a lot. But after a few weeks, she declared that it was I who needed a break and a rest because the babies were doing fine. In Canada, it is also pretty unheard of to have hired help, which meant I was doing all the mothering myself. It was truly exhausting.

"We moved to Dubai when the twins were five months old, and the first three months were the toughest I've ever experienced. I was still determined to bring the twins up myself - but living in a new country without the support network of family and friends was very difficult. I also found that I couldn't just take the twins out for a walk, because Dubai isn't built that way. After three months, My husband told me to take a break and go back home for a little while.

"I returned refreshed after the trip, and with a completely different attitude. I realised I needed help and employed a maid. I also made an effort to get to know my new home. Suddenly my eyes opened to all the wonderful things Dubai has to offer parents. There are so many places that cater for children and families.

"Now my twins are older, I've got used to the work load and routines that have to be followed, but one thing I'll never get used to is the expense. Buying two of everything is a trial, because it's not as if you can pass down all the equipment to the next baby. It's also incredibly costly to prepare for twins, and when they get older, you'll have two lots of school and college fees to find at once. When you have two babies with a gap in between, at least you can stagger the savings."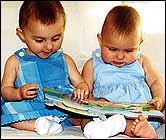 "I did not bloom. I vomited up to 10 times a day and the morning sickness went on round the clock." Sousan Eshehabi Abukhadra, mother of seven-month-old Tala and Maysam.

"Both the babies were concieved and born naturally, but it was a complete surprise to me when I was told I was having twins, because I hadn't heard of happening in our family. It was only when I broke the news to my mother that I found out my great grandmother had given birth to twins, but they had died shortly afterwards.

"My pregnancy was not easy at all - but because Tala and Maysam were my first babies, I'm not sure if it was because of having two babies, or it was just my body's reaction to pregancy. Whatever the causes, I did not bloom. I vomited up to 10 times a day and the morning sickness went on round the clock.

"I was in Boston for the delivery and luckily the birth went very smoothly. I went into labour three and a half weeks early and was given an epidural for the pain. Both the girls were delivered in the normal way, with Tala arriving four minutes earlier than her sister.

"I think it was the responsibility of having two tiny babies to cope with instead of one that was pretty overwhelming. My mother and husband were with me all the time, and I don't know how I would have managed without their support. After the birth, I went into autopilot and just fell into a routine of looking after them. From the word go, they slept, fed and even pooped at the same time. They've only ever been sick with a cold once - thank God - but even that was in unison!

"Shortly after the birth, I moved to Dubai - so I was in a new country where I knew very few people, and had to organise a house, make friends and look after two tiny babies at the same time. It wasn't easy.

"I love being the mother of twins because there really is something so special about it. One thing I'm pleased about is that they will always have each other when they go through those difficult mile stones in life like starting school. Even when children come from big families, age-gaps can mean that a child will be lonely - but this will never be the case for Tala and Maysam. Even now I can see they have a very strong bond. They play together and make baby noises, and they're so used to each other, that if one of them cries in the night, the other won't wake up.

"If I had the choice of having Tala and Maysam at different times in my life rather than together as twins, I'd still go through it all again because they are a package deal. However, if I had the choice, I don't think I'd go through having twins again - but all that is up to God to decide. At the end of the day, if your babies are healthy, then that's all that matters..."

"If it weren't for both my mother and husband's help, I might have collapsed." Nada Mardini, mother of eleven-year-old identical twins Ryan and Alan

"When Alan and Ryan were babies, they had a special language of their own. It was an adorable sight just watching them communicate. One of them would jibber and jabber, and then you would see both of them crawl in the same direction,"says Nada as she recounts the innumerable pleasures of mothering twins.

When Nada first held her twin boys in her arms eleven years ago, she was 'in a different world'. Here were the two tiny beings that had been a part of me for so long. It was difficult to believe that they were finally here, finally real. I kept looking from one baby to the other as tears streamed down my face."

Seeing the boys made Nada quickly forget about the difficulties of the last two months of pregnancy when due to premature contractions she was confined to her bed for nearly twenty four hours a day. "Even if my doctor hadn't ordered bed-rest, I would have self-imposed it anyway. I had gained so much weight that I could barely move around. I don't know how much weight I gained. I just stopped counting sometime around the fifth month."

At one point or the other of their pregnancies, many women tend to entertain the idea of what it would be like to have twins, but with Nada, it was more than just a thought that crossed her mind; she simply wanted to have twins. "I remember it was a Friday when I came back from the doctor's and had my pregnancy first confirmed. It was dhur prayer time, and as I heard the call for prayer, I thanked God for my pregnancy and secretly prayed for twins." Nada says she wanted twins for many reasons, but it was basically because my husband was not very keen on having kids at the time, and I thought that with twins, it would be a once and for all experience."

During her eighth week of pregnancy, Nada was told that she was carrying, not one but two babies, she was overjoyed. "I developed goose bumps as I realized that God had answered my prayers.

"Sure it has been a lot of hard work," Nada says. You have to give up so many things for the first couple of years, and just concentrate on being purely a mother, heart, soul and body. In my case, there actually was no time for anything else. I remember detaching myself from my previous life as a working woman and getting totally caught up with my new role. I don't even know how I managed to survive those first few months. Alan and Ryan were both colicky babies, and there was always someone crying around the clock. If it weren't for both my mother and husband's help, I might have collapsed."

Nada was not the only one who changed dramatically upon the birth of the twins, it was also her husband Abed as well, "Abed had always joked that when he would have babies, he would need a sound-proof room to escape into; but it was to the contrary. He became so involved in helping out with the boys, and no matter how tough his day at work would be, he would always come home eager to lend a helping hand. All of a sudden he went from someone who was not ready to have kids, to a dedicated proud father of twins."

"Yes we have the usual cares of childhood and the sibling rivalry. Sometimes the boys even wish that they weren't twins. They hate it when friends mix up between them, or when people compare. They each want to be regarded as an individual. This is something their father and I had to learn to do throughout the years. We had to learn to give each what he requires from us, and they both need different things."

Despite their stunning physical resemblance, the Mardini boys actually have two different characters. "They have different tastes in food, different friends, and a different attitude to life in general." Nada says.

But with this dazzling resemblance, how does Nada tell them apart? "I have never mixed up between the two boys; even with my eyes closed. I can tell them apart by their smells," she says.
If the experience were to be reversed, would Nada have wished to have the boys one at a time? "No. I am proud to be a mother of twins."

"I started crying, but only with joy. I was so happy. I don't know why but at that moment my fears ended.""Taghreed Al Seraj, mother of six-year-old fraternal twins Kenaan and Rayan Kaaki
When people ask Taghreed what it is like having twins, she usually answers with the question: "What is it like not having twins? I always have trouble explaining to people that this is the only way I know childbirth and motherhood to be - in two's. I sometimes wonder how awkward I would feel if I were to have just one baby the next time I get pregnant. Maybe it will be too easy for me!"

When Taghreed's doctor first implied that she might be having twins during her eighth week ultrasound, Taghreed was really scared. "I have an aunt who has twins and I knew how difficult it had been for her," she says.

But when the doctor's suspicions were confirmed four weeks later, Taghreed was surprised at her own reaction: "I started crying, but only with joy. I was so happy. I don't know why but at that moment my fears ended and I knew everything would be just fine."

Feeling that the news of the twins was extra special, Taghreed and her husband decided not to share it with anyone. "I know both of our mothers guessed it, but we just wouldn't let them in on the truth."

Taghreed says she spent most of her pregnancy shopping for the babies. "I fell in love with the boys way before they were born. There was so much excitement involved in getting ready for their arrival, especially when we started buying all the baby stuff in two's."

"My third trimester of pregnancy was the worst," says Taghreed. "I got so huge, people would stare at my tummy anywhere I went. They'd be talking to me and instead of looking me in the face; they'd look at my abdomen. That really annoyed me. I also could barely get any sleep at all. If I'd lie down I would suffocate. I remember having to sleep with three or four pillows supporting my head, in an almost upright position.

"Rayn and Kenaan love each other terribly. They share a special bond that not many brothers I know do. Sure, they fight a lot and all the sibling rivalry is there, but they are so adorable and loving. They cannot stay away from each other for long. If one wakes up before the other, he wanders around the house like a lost person.

"I don't think that being a mother of twins is a big hassle," Taghreed adds: "It might be a little more work than for one who has just one baby, but my twins have always been easy to handle. I know some mothers with only one child who give them more trouble than my Kenan and Rayan give me. I think that after all it is a matter of how you raise your children. I try not to spoil them, and with twins, it is easier not to spoil. They learn about the concept of sharing very early on in their lives." Taghreed and her husband had agreed on this concept right from the start. They didn't want to spoil their children so they made a point of not buying them toys in doubles.

"Having them as fraternal twins is only a plus," adds Taghreed. "We get to have all the blessings of having twins without the burdens of mixing them up. Plus, one looks like his dad, and the other looks like me. It couldn't have been any better."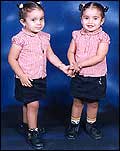 "I really wasn't ready for two babies. I wanted a second child at that point, but two was much more than I had counted for." Nanice Ellayeh, Mother of three year-old identical twins Sara and Lina
Nanica already had a two-year-old boy when she and her husband decided to have a second child. As it turned out, they got two girls for the price of one. She says:

"No matter how exhausted you might be at the end of each day, with twins you always feel you have not done enough, you feel you haven't given each twin enough care, nor enough attention. Having had a single baby the first time round, Nanice feels she has enough ground to compare what it is like in both different situations. "With Omar, I would take my time doing things, but with the twins it is always a rush. When they were babies it was like: 'hurry up and take your bottle; it is your sister's turn, or, you can't be changed now, wait for your turn.' This had left Nanice frustrated at the end of each day. What made it even more challenging for her, is the fact that her older son had not turned three when the girls were born. He still needed my attention. He was still a baby in one way or the other, but suddenly he had to take the role of the big child. There was just no time for him.

"The first few months, I simply had no sleep at all. My husband moved to the other room, while my mother, who stayed with us for a short while, moved into my room, along with Omar. One twin would wake up and everyone would wake up. It was a very exhausting time." When Nanice found out that she was carrying twins, unlike the other mothers, she was simply unhappy.

"I really wasn't ready for two babies. I had wanted a second child at that point, but two was much more than I had counted for.

"The delivery itself was not that difficult, but the worst part was that feeling when the first one was born and I thought this is it, and then the contractions started all over again getting me ready for the second one."

As hectic as her home maybe at the moment, Nanice couldn't be any happier. "I feel blessed with the girls, as difficult as it is, it is very rewarding." Sara and Lina are my little angels. No, I did not want twins, but now that they are here, I know how valuable they are, especially since they are girls. They have added so much more love and happiness to our little family. One day we were a quiet small family of three, and the next day we were a huge active family of five."

Courtesy: Arabian Woman