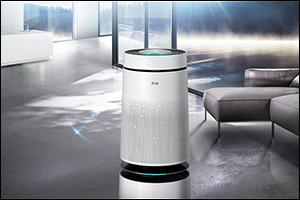 LG PuriCare Air Care Solutions Ensure Clean Air and Optimal Breathing Comfort
DUBAI, June 6, 2022 – This week marks World Allergy Week, which is observed each year to raise awareness of the impact of allergic diseases and related disorders. This year, the week is dedicated to the connection between asthma and allergic airway diseases. Committed to benefiting the health and well-being of consumers, LG Electronics (LG) offers air solutions that are well designed to meet the needs of those who suffer from allergies and airway diseases. The LG PuriCare™ line up of air purifiers is designed specifically to ensure the safety and wellbeing of consumers and provide them with clean, healthy air both indoors and outdoors.
Ensure Clean Air at Home
Designed to create a healthy atmosphere indoors, LG PuriCare 360° Air Purifier works on improving poor indoor air conditions caused by external factors such as industrial pollution or dust. Its 360-degree design enables the device to refresh and revitalize the air across large areas. With the 6 steps of its 360° Total Care System, the LG PuriCare 360° Air Purifier eliminates more than 99% of harmful ultrafine particles and removes living odour, smog and airborne chemicals, providing the utmost care to those who suffer from allergies and airway diseases. What is more, LG PuriCare air solutions are globally certified by multiple organizations, indicating that they are guaranteed to reduce bio-allergen airborne levels by 75% or greater, remove super-fine dust and prevent allergens that can cause respiratory and skin diseases.
Healthy Breathing on the Go
LG's PuriCare Wearable Air Purifier is a portable personal air solution that allows users to effortlessly breathe pure air in almost any environment. Designed to bring personal protection to the next level, it contains HEPA filters to prevent 99% of harmful viruses, bacteria and common allergens from entering the respiratory system. LG's PuriCare Wearable Air Purifier not only provides a healthier solution, but also features an ergonomic design that allows to minimize air leakage around the nose and chin and is comfortable to wear daily. Additionally, the purifier's upkeep is effortless as its key components are easy to remove, ensuring the purifier remains hygienically clean.