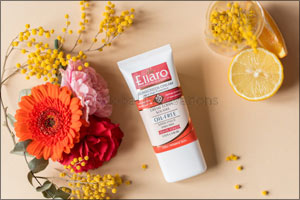 Dubai, UAE, May 07, 2018: French skin care brand ELLARO by VONAGE Laboratories is launching a revitalizing serum and cream containing just the right dose of vitamin C to nourish and regenerate the skin. Because of its antioxidant properties, vitamin C combats free radicals and smooths the skin. The serum and cream complement each other perfectly. Their exclusive formulas are based on powerful active ingredients and were developed by ELLARO's R&D teams in France according to the stringent quality requirements for high-end skincare products. With a strong presence in the Middle East, ELLARO attracted the attention of dermatologists, cosmetic surgeons and pharmacists at different event participations such as the Geneva dermatology conference (EADV) in September 2017 or, PharmagoraPlus fair in Paris 2018, as result ELLARO is developing more and more in France and International Markets.
Ellaro Revitalizing Serum, enriched with two stabilized forms of vitamin C, provides antioxidant protection and revives and re-energizes the skin. It also contains retinol and zinc PCA, which stimulate collagen production for a smoother, younger-looking complexion with a healthy glow. Its light, fluid texture ensures quick absorption by the skin for an instantly revitalized complexion.
Thanks to its antioxidant formula enriched with vitamin C and restructuring agents, Ellaro Revitalizing Cream brightens the complexion and restores the skin's natural radiance, firmness and elasticity, giving it a healthy glow! Its rich and deliciously creamy texture with Shea butter intensely hydrates and regenerates the skin. The lecithin and retinol (which is a source of vitamin A) have revitalizing and restorative properties, and therefore strengthen the skin's defenses against external aggressors and slow the aging process.
According to Michel Redouly, director of Vonage Laboratories: "Driven by creative passion and backed with solid experience, our laboratory is using the very latest technologies to develop high-quality, innovative skincare products and cosmetics. With their focus firmly on customer satisfaction, our sales and marketing teams are taking part in Beautyworld Middle East 2018 for the second consecutive year. They will be exhibiting our flagship products and our latest innovations, and will adhere to customer requirements from order to delivery".
In addition to its boutique in the ninth arrondissement of Paris, ELLARO is gradually gaining ground on the international market. The brand is currently available to buy on Amazon and its own e-commerce.
Drawing on its unique formulation expertise, the laboratory has developed formulas for oily skin that stand apart from rival products because of their combination of salicylic acid and sebum-regulating agents. VONAGE also has a range of sun care products which, thanks to their high-quality filters, appeal to women of all ages and skin types.
From May 8 to 10 2018, VONAGE is exhibiting in the France Pavilion of Business France – the national agency supporting international development of the French economy – at Beautyworld Middle East in Dubai - S2 C26