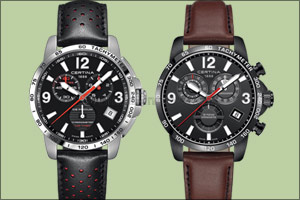 For decades the CERTINA name has been associated with motorsport – an engagement not without its share of consequences.

Dubai, UAE, January 7, 2018: With the launch of the latest DS Podium Chronograph Lap Timer – Racing Edition, the Swiss watchmaker brings the precision and high-speed thrills of professional racing to the wearer's wrist. In a timepiece capable of measuring tenths of a second in real time and certified as a genuine COSC Chronometer, a lap-timer function adds the final touch that every racing fan will cherish.

A particularly exciting one now comes in the form of a zero-compromise timepiece, the new DS Podium Chronograph Lap Timer – Racing Edition, equipped with the superbly accurate Precidrive™ quartz movement and COSC certification as a genuine chronometer.

The chronograph functions are specially tailored for motorsport timing. The lap timer, for instance, can easily measure and add round-the-track times, in a few simple steps. Totals are shown on the 60-minute counter (located at 10 o'clock on the dial), to match the exact time duration of an ADAC GT Masters race. The tenths-of-a-second display (at 2 o'clock) outputs in real time for two complete minutes, corresponding to an average lap time.

Now available at Rivoli and Hour Choice stores across the UAE, the timepiece with black strap is priced at AED 2,460 while the timepiece with brown strap is priced at AED 2,750.