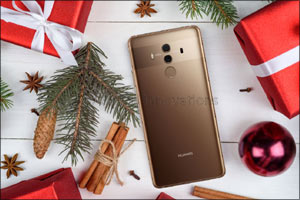 Dubai, UAE, December 9, 2017: Coming up with great gift ideas for your favorite people can be tough, and it's especially daunting when it comes to gifting your loved ones with their most important gadgets. Luckily, Huawei's got you covered with its latest lineup of devices this holiday season. Huawei devices make thoughtful presents because in addition to being feature rich, they are also aesthetically pleasing with fine craftsmanship and stunning designs. So get festive and go ahead and make someone feel special with a gift they can cherish and use everyday.
For the action lover
If you're looking for the perfect gift your loved ones will cherish everyday, the HUAWEI Mate 10 is the most intelligent choice. The world's most powerful flagship Artificial Intelligence (AI) smartphone, the Mate 10 is ideal for both expert and novice users, offering an unbeatable combination of intelligent speed, power and camera performance. The intelligent camera automatically adjusts and chooses settings to help users take better photographs in a range of different environments. Whether it's children running, a winning goal or dance moves, the Mate 10's AI Motion Detection makes it the ultimate device to capture those memorable action moments. Available in Mocha Brown and Black colors at a price of AED 2,299.
For the style obsessed
Unwrapping the most powerful flagship Artificial Intelligence (AI) smartphone would make anyone feel special, but especially your style-obsessed loved ones who are all about making a statement. With a dazzling, barely-there-bezel design and beautifully curved edges, the Mate 10 Pro is sought-after for its exclusive feel. It's also the phone everyone's been coveting after it caught the limelight at Arab Fashion Week in Dubai earlier this year with its intelligent speed, intelligent power and intelligent camera. The event's official photos were shot with the Mate 10 Pro, replacing traditional bulky photography equipment. The AI-powered camera, which automatically adapts and adjusts its settings, is likened to having a portable professional photography studio in your pocket. Available in Midnight Blue, Mocha Brown and Titanium Gray colors at a price of AED 2,999.
For the luxury driven
For those looking for a festive gift that epitomizes the elite lifestyle with a premium look and feel, PORSCHE DESIGN HUAWEI Mate 10 features a distinguished Porsche racetrack stripes design to show off its speed heritage. The limited edition model is driven by intelligent performance - intelligent speed, intelligent power and an intelligent camera. The PORSCHE DESIGN HUAWEI Mate 10 is the most powerful Mate Series smartphone, with a 6GB RAM + 256GB ROM storage solution that maximizes performance. Also the best in class device boasts a customized User Interface that complements the overall design to showcase the unique sense of speed and customization of Porsche Design.
PORSCHE DESIGN HUAWEI Mate 10 is delivered in special premium packaging with exclusive accessories and VIP member services.