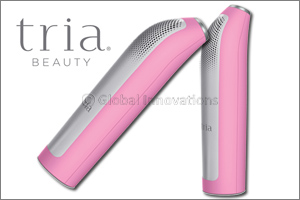 Dubai, UAE, May 9, 2017: Although laser hair removal is known to be more effective than waxing or threading, due to the required expensive visits to the dermatologist, most women do not consider it to be a feasible solution. However, this issue has become a thing of the past as the procedure can now be carried out within the comfort of your own home using laser removal devices such as the Tria Precision Hair Removal Laser.
Even though this FDA approved laser device is a lot smaller compared to Tria devices, it consists of the same diode lasers as the Tria 4X, which is the preferred technology of many dermatologists. To ensure effective hair removal, the Tria Precision Hair Removal Laser sends focused light beam impulses directly through the skin, which disables hair follicles and permanently reduces the hair growth. With a sleek and lightweight design, which makes it easier to maneuver over small regions such as upper lips, side burns and bikini line, this cost effective and easy to use device, can also make for the perfect travel companion.
How to use:
Apply the Smooth Start Calming Gel
Turn on the device and then unplug the Tria Laser Precision from the battery charger and press the power button
Unlock by holding the device tip with the built-in skin sensor against the skin you wish to treat. If the Tria Laser Precision is safe for your skin tone, the laser will emit a series of beeps and unlock.
Set the treatment level. Press the power button to adjust levels. For best results, treat at the highest level that you can tolerate.
Hold for one beep. Touch and hold the treatment window to the skin until you hear a beep. Then, lift and place the laser back on the skin so that it overlaps the previous spot by about 1/4 inch, or 5 mm. For best results use the device every 2 weeks for 3 months
The Tria Precision Laser is available from Bloomingdales, Harvey Nichols priced at AED 1,650.