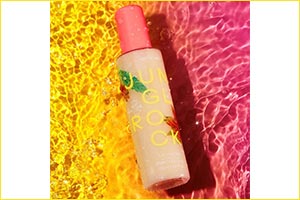 **JUST DROPPED! wet n wild's Limited-Edition Jungle Rock Collection is Bold, Tenacious and Sassy! **

United Arab Emirates - March 07, 2021: The Jungle Rock Limited Edition collection is an explosion of vibrant colours. Designed by make-up artist and influencer Bretman Rock, as part of a collaboration with wet n wild, this spirited edition flaunts a playful mood intensified with elements of packaging that reveal a fresh and exotic look and feel. Inspired by Bretman's bold spirit, the tropical-themed collection is a tribute to his love for flora and fauna. The collection includes an eyeshadow palette, face mist, lip gloss and highlighting brush.
Jungle Rock Colour Palette (AED 89)
Everything roars in the Jungle Rock Colour Palette!
The packaging brings to mind the wild nature of the jungle. The colour palette reflects a daring without limits. The palette - which holds 15 highly pigmented shades in a mix of bold and neutral colours in four finishes (satin, matte, metallic and glitter), allows for creating an endless number of sassy looks. The formula has a creamy texture for an easy glide. Each shade can be used as both wet and dry to create eye-catching looks.

Jungle Rock 3-In-1 Hydrating Face Mist (AED 49)
Fresh notes of tropical jungle flowers
The Jungle Rock 3-In-1 Hydrating Face Mist is a multi-purpose liquid formula that can be used to prep your skin before make-up application to create radiance. It can also be used as an all-day refreshing spray owing to it revitalizing properties. It is enriched with a blend of papaya, coconut, dragon fruit and extracts of Kakadu plum, and it smells like tropical flowers. It also provides vitamins E & C, has antioxidant properties, and is a powerful skin moisturizer.
Jungle Rock Lip Gloss (AED 35)
The final touch for a decisive look

The Jungle Rock Lip Gloss offers brilliant shine and adds an amplified volume effect for even lusher lips. The exclusive blend of coconut, papaya, dragon fruit and extract of Kakadu plum provides vitamins E and C and antioxidant properties to keep lips super soft.
Jungle Rock 2-in-1 Loose Highlighting Powder (AED 49)
Bring out your Jungle glow!
A 2-in-1 loose highlighter powder infused with highly reflective, iridescent pearls that deliver a buildable, yet intense, sparkly glow. It contains two shades that can be used individually or mixed together to create a duo-chrome, shade-shifting effect. Loaded with light-catching pigments and micro-fine pearls, a liquid-like glow can easily be created on the skin. Enhance and illuminate your best features – cheeks, nose, Cupid's bow, eyes, and body. Designed for all skin tones and skin types!
Jungle Rock Highlighting Brush (AED 69)
To give you precise highlight while diffusing colour
The highlighting brush is perfect for applying your Jungle Rock 2 in 1 highlighter and any of your favourite powders. It's an accessory that helps create a wild look. The synthetic bristles are extremely soft and ensure uniform application. The ergonomic handle provides maximum comfort and total control over your make-up. The tapered end of the brush helps distribute the product with precision.