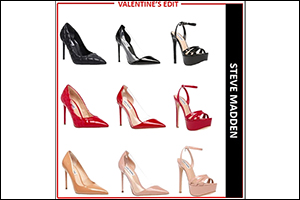 United Arab Emirates - January 20, 2021: Steve Madden is ready to celebrate Valentine's Day with the quintessential colours of the occasion - red, blush-beige and black.
Celebrate with yourself, love yourself and be generous to yourself. If you call yourself a shoe lover, then treat yourself to trendy shoes that are perfect for this special day.
If red is the first colour that comes to your mind when we say Valentine's day then go for it! Spice up your casual ensemble with stunning red stiletto pumps, to add that touch of subtle glam. Those who want to avoid any kind of OTT, can opt for black sandals that maintain the balance between fun and elegance. Blush-beige will always remain an all time favourite for those who want to steer away from the obvious red yet celebrate in style.
So whether you've planned something big this year or got fun plans with your girls, a run through Steve Madden's Valentine's Day collection will be worth your while.