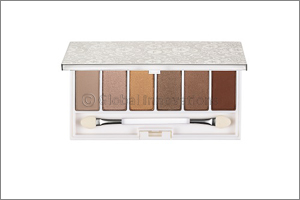 Dubai, United Arab Emirates, December 30, 2019: It's a day that's so special for a woman that she daydreams it in such detail; from her wedding gown to her make-up and accessories, to saying 'I do' and her wedding kiss, her first dance and family photographs, the venue and the décor, and everything else she can imagine to make it a perfect wedding. And for her, looking beautiful and radiant means a lot on this special day as every picture captures it and using the right make-up products is of paramount importance.
Flormar's limited edition 'Bride to Be' collection offers a range of make-up that a bride can trust to glow and look beautiful on her wedding day. Packed with glowing shimmers and shiny lippies, Flormar's special range of products are more than perfect.
Here are some top picks from the Bride-To-Be collection by Flormar:
Charming Matte Waterproof Dip Liner (AED 33)
Tears will be shed on your special day, no doubt. This gem of an eyeliner will not only give depth to your eyes – the windows to the soul – but also will not budge, even with a few happy tears.
Diamond Loose Highlighter (AED 55)
Every bride wants to be bright with radiance on the special day. You can't go wrong with this loose highlighting powder, guaranteed to deliver that bridal glow every woman desires.
Dreamy Lip Cream (AED 39)
These lip creams come in six beautifully neutral shades that go on smoothly, and offer a soft, long-lasting formula to last the whole day. You may now kiss the bride!
Eyeshadow Bouquet (AED 65)
An eye shadow palette that houses all the essential shades to create a stunning bridal look is a must-have in a bride's make-up bag. A few strokes of these gorgeous colours, and your hubby will not be able to look away.
Romance Volume Mascara (AED 45)
Add some volume and thickness to your lashes with this miracle working mascara. Complete the look with a swipe of this gem, and you're good to go!
Satin Touch Compact Powder (AED 57)
Complexion is undoubtedly the most important part of a bride's make-up look. Cover your base with one of eight shades of this smooth and mattifying compact powder for a flawless base.
Wedding Day Makeup Fix Spray (AED 39)
Weddings are an all-day affair, and brides have to be sure their makeup lasts them all day. This spray will not fail you – it is guaranteed to keep your makeup as fresh as when you first apply it, all day long.
Dreamy Look Nail Enamel (AED 19.01)
Be sure your nails are in tip-top shape for the special moment when your husband holds your hands in his for the first time as a married couple. This nail enamels come in six gorgeous nude shades, perfect to match all other aspects of your special day.
Flormar products are available in-store at the following locations:
Dubai: Mercato Mall, City Centre Deira, The Dubai Mall, Al Ghurair Centre, Burjuman Centre, Madina Mall, City Centre Shindagha, Oasis Mall
Sharjah: City Centre Sharjah
Ajman: City Centre Ajman
Abu Dhabi: Al Wahda Mall, Dalma Mall
Al Ain: Al Jimi Mall