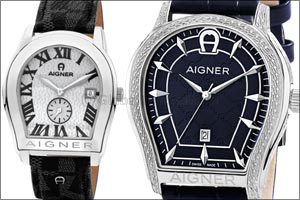 Dubai, United Arab Emirates - October 28, 2019: The AIGNER horseshoe is iconic. It is characteristic of an era of glamour, horse racing and revival. And the AIGNER watch is a modern classic, reimagined and reinterpreted to suit the design aspirations of men and women for style for more than five decades. In the new Fall/Winter 2019 collection, the brand redefines the design codes of understated elegance with a line of workday watches that make the transformation from desk to dinner with admirable ease.

Leading the collection is Catania, a timepiece that stuns with the sheer simplicity of its details. Intrinsic to the Maison, the horseshoe makes a more pronounced appearance in this understated timepiece for ladies, which combines modern jewellery savoir-faire with traditional aesthetics.

The polished mother-of-pearl dial adds clarity to the watch face that is highlighted with studded indices, and the elegant horseshoe-shaped bezel, which seamlessly melts into the intricate bracelet, equips the timepiece with style.

Another remarkable ladies timepiece from this collection is a tribute to absolute femininity— Aprilia. The timepiece is defined by the delicateness that inches every element of its detail. Set in graceful silhouette, the timepiece harbours one of most exquisite dials ever designed by AIGNER. White Camellias – symbolic of love and adoration— festoons the pearlised canvas of the dial that is outlined by a sparkling trail of glitter and metallic indices.

The timepiece that sets the tone for the gents' collection is AIGNER Ferrara. With streamlined features that redefine the status quo of masculine timepieces, Ferrara is edgy, sporty and fashionable. Be it the multi-faceted bezel with distinctive grooves or the textured dial with date window and seconds counter, Ferrara is a well-crafted timepiece that promises phenomenal style and functionality.

AIGNER explores the finer nuances of luxe timepieces that can also render an athleisure charm with the new Fall/Winter collection that is available at AIGNER boutiques and luxury outlets across the Middle East.