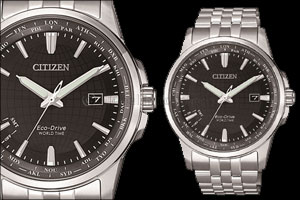 Striking Model Ideal for Frequent Travellers
Dubai, United Arab Emirates - 01, August 2019: Pioneers in watch technology and renowned for a series of firsts in horology, CITIZEN has released yet another Eco-drive collection with new innovations, making it ideal for the frequent traveller.
The updated versions feature Citizen World Time Perpetual Calendar, a mechanism that accurately indicates the time and date of the watch 'perpetually', taking into account the length of the month and leap years.
Featuring world time in 26 time zones, perpetual calendar and date, combined with the brand's bespoke proprietary light powered Eco-Drive technology, the Citizen World Time Perpetual Calendar collection delivers precision without compromising on aesthetics.
Featuring a striking and distinctive deep black dial, paired with a stainless-steel strap (BX1001-89E seen in the image), this classic timepiece is suitable for every-day wear - a choice that combines style with practicality.
CITIZEN's BX1001-89E (modelled below) is priced at AED 1,932. The collection is available across all CITIZEN Exclusive stores as well as on the e-shop.