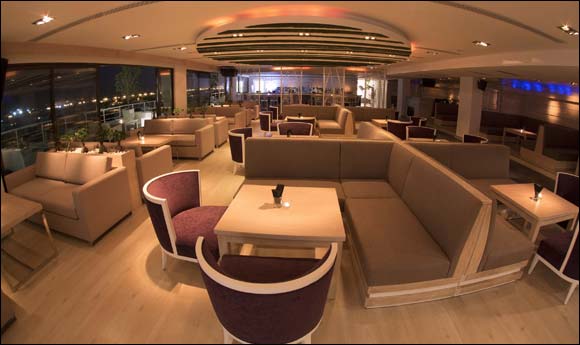 Vibrant new nightspot for art, music and food lovers in the Media City area offering breathtaking sunsets, exhilarating sounds and Peruvian sharing menu with a twist
UAE, 24 October 2013; Story Rooftop Lounge has launched in Dubai, taking the bar scene back to basics with a real, down-to-earth offering combining stunning views of the city, exhilarating sounds and a delicious sharing menu that boasts an explosion of Peruvian flavours. Situated in the Media City Area behind Zayed University, Story Rooftop Lounge is open 7-days a week from 5pm–3am, making it the ideal sunset or after dark hangout.
Appealing to those with a more rebellious approach to life, the venue is real, eclectic and aims to contradict the "bling bling" of Dubai. Story Rooftop Lounge is a vibrant nightspot for art, music and food lovers alike and is focused on pure quality throughout – from its world-class chef and award-winning mixologists, through to the bespoke art throughout the venue, Funktion One sound system and the best local and international house DJs. The venue has an extensive rooftop lounge area that showcases sunset views of the Burj Al Arab and The Palm Jumeirah, which can be enjoyed while taking full advantage of its delicious Peruvian food, extensive drinks menu and variety of shisha. Moving indoors, unique illustrations by award-winning artist Fernando Elvira adorn the walls and bar bringing a colourful and alternative environment to the venue's interior.
The flavourful Peruvian sharing menu showcases an eclectic mix of traditional and contemporary ingredients. Starting from AED 45, menu highlights include Anticucho de Conchos (scallops in olive oil, lemongrass, aji amarillo and coconut), Ceviche Nipon (snapper with leche de tigre, gari, yuzu, coriander and sesame oil), Spring Rolls de Lomo Saltado (beef tenderloin, soy sauce, red onion, vinegar and coriander rolled and fried) and Ensalada de Quinoa (avocado, lemongrass, olive oil, hummus, lime, cheese and quinoa salad). For those with a sweet tooth, Keke de Yuca con Sorbete de Maracuya (cassava cake with passion fruit sorbet, cinnamon and star anise syrup) and Milhojas de Chocolate Crocante (chocolate tulips with pistachio cream and praline) will not disappoint.
Commenting on the launch, co-owner Manuel Ayas, said: "People in Dubai are getting so bored of the bling bling culture. We wanted to bring them something completely different.  An amazing venue, focused on quality but where they can come as they are and feel at home. Whether they're looking for the perfect spot for sundowners, a place to eat and drink with friends or an exhilarating night spot to party after dark – Story Rooftop Lounge has it all."
The nightspot will also be offering unique weeknight concepts, a Thursday night Story brunch and A Different Story brunch on Fridays, offering endless platters of Peruvian delicacies, a selection of classic cocktails with a modern and edgy twist, stunning views and a soundtrack to rival that of the best international rooftop venues – the perfect setting for those who enjoy the simple things in life, to the fullest.