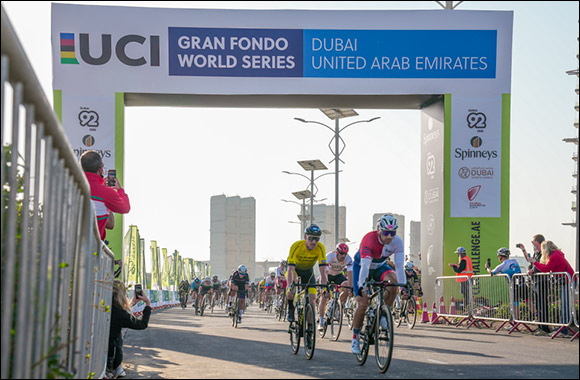 Over 2000 male & female cyclists of multi nationalities from UAE & overseas are expected to participate in the 13th edition of the Spinneys Dubai 92 Cycle Challenge, which is qualifying to the Gran Fondo World Championship.
The 92 km cycling challenge will be organized on 19th Feb. 2023 with the support of Dubai Sports Council & the UAE Cycling Federation and under the umbrella of the International Cycling Union.

The Challenge will commence at 06:00 am from Dubai International Stadium in Dubai Sports City, passing through some of the most prominent tourist & sports landmarks in Dubai; among which are: the Emirates Hills, Jumeirah Islands and Montgomery Golf Course.

Juniors' Race:

Young cyclists from 2 to 12 years old will catch this opportunity to entertain biking on 18th Feb. at a closed racecourse & in a safe atmosphere, accompanied by their families. Children from 2 to 3 years old will participate in the 1 km challenge, while children from 4 to 5 years old to compete in 2 km challenge and children from 6 to 11 years old (short junior) will participate in the 4.5 km challenge. Children from 9 to 12 years old (long junior) are decided to contest the 9 km challenge.
Amateurs' Race:
The Spinneys Dubai 92 Cycling Challenge comprises outrider race for amateurs with a short distance of 40 km, allowing beginner cyclists of less experience in UAE to participate in a community race within a professional atmosphere that suits their physical abilities, boosts cycling skills and equips them with enough confidence to participate in further cycling competitions.
20% of the contestants in Spinneys Dubai 92 Cycling Challenge, who are registered in all categories from the age of 19 & up to above 79 years old, will qualify to participate in the Final Cycling Race, the biggest in the world, taking place next Aug. in Glasgow – Scotland, with participation of qualifiers from 13 world championships from the various continents of the world among which is the Spinneys Dubai 92 Cycling Challenge, which is part of Gran Fondo World Series' agenda. Each qualifying contestant should be registered in a team, accredited by the Gran Fondo World Series, or he should be one of the cyclists who had participated in a world championship such as Cycling World Championships, Olympic Games, Continental Games or World Cup during the last year.
Participating Categories:
Participants in the Spinneys Dubai 92 Cycling Challenge compete in 11 various categories; as follows: 19 to 34 years old category / 35 to 39 years old category / 40 to 44 years old category / 45 to 49 years old category / 50 to 54 years old category / 55 to 59 years old category / 60 to 64 years old category / 65 to 69 years old category / 70 to 74 years old category / 75 to 79 years old category / 80 years old & above category.
Registration:
Those who are desirous to participate in this international event can complete registration procedures through the official website of the Challenge: www.cyclechallenge.ae, as registration door will remain open up to Wednesday 15th Feb.
It is worth-mentioning that the Organizing Committee had organized several trial races (Build–Up Ride) with participation of hundreds of racers who contested these trial challenges in real competitive atmospheres at the various cycling racetracks in Dubai.
Remarkable Success:
The organization of Spinneys Dubai 92 Cycling Challenge for the 13th year confirms the continuous success of the event since it combines between the elements of community race & competitive race simultaneously. The attracting of 2000 participants from all over the world affirms the wide popularity & distinctive status of this international pioneering challenge throughout the region.
The inclusion of the Challenge among the Gran Fondo World Series agenda confirms the remarkable status of cycling sport in UAE in general & Dubai in particular, besides the great governmental support to boost & popularize the culture of the exercise of this sport, through constructing of racecourses all over Dubai as per the best world standards & specifications and according to the nature of each area & classification of the tracks. The total length of cycling tracks in Dubai is expected to reach 759 km over the next three years, linking coastal areas with outdoor tracks, passing through residential areas, taking into consideration that these endeavors aim to encourage the exercise of cycling sport among all classes in society.