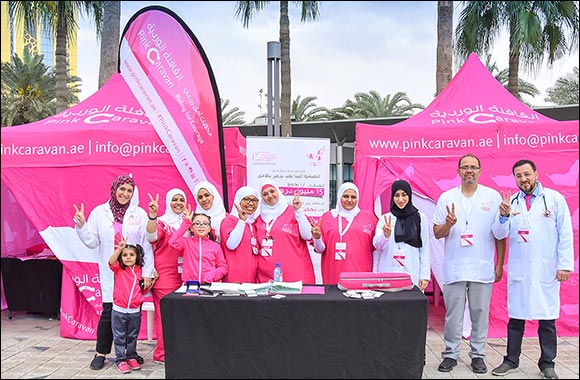 The Pink Caravan Ride provides free testing facilities in six emirates between January 20th - February 10th

Sharjah - January 19, 2023: The Pink Caravan Ride (PCR) has dedicated 9 fixed clinics across six emirates that will offer free breast cancer screenings and aid in increasing community awareness of the disease. The facilities will operate from 4pm to 10pm between January 20th to February 10th and give the public the opportunity to receive hassle-free testing free of charge.
The pan-UAE breast cancer awareness ride organised by the Friends of Cancer Patients (FOCP), will be offering these free medical screenings at the fixed clinics with the intention to cater to a broader segment of the community. The medical clinics will be opened to the public around the UAE prior to the launch of the 11th edition of the annual Pink Caravan Ride, taking place between February 4th and 10th.
PCR will also be offering sessions at the clinics to raise awareness and teach people how to self-examine in efforts to detect breast cancer early, ensuring prompt treatment and a speedy recovery. The screenings will be available to both women and men and be available at the following locations:
Sharjah will be home to three clinics located at Al Majaz Waterfront, Mega Mall, and Lulu hypermarket in Al Butina.
In Dubai, citizens and residents can head to Lulu Hypermarket in Al Barsha, and Mirdif City Centre to take advantage of the free medical screening, while in Ajman, the fixed clinic will be providing early detection for both men and women in China Mall.
Free screenings will also be available at Lulu Hypermarket for Umm Al Quwain in Mall of UAQ, Fujairah in LULU Mall and Ras Al Khaimah in Mall of RAK, providing citizens and residents this important service in aid of early breast cancer detection.