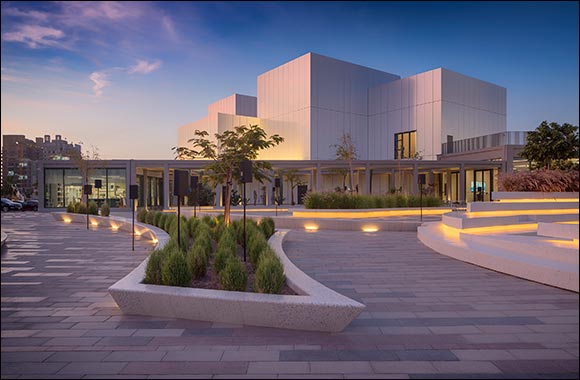 Coming Soon
Down to Earth 2022
November 27, 2022 | 10am - 8pm
Jaddaf Waterfront Sculpture Park, Jameel Arts Centre
Down to Earth, the UAE's annual festival celebrating all things green, returns for its third edition on Sunday, November 27, 2022 from 10am to 8pm. Jameel Arts Centre invites both veteran and new gardeners, nature and crafts enthusiasts, the eco-conscious and sustainability-aware to experience a range of entertaining and informative activities for all ages.
Free and open to everyone, Down to Earth features rolling, day-long, drop-in workshops for all ages in the festival's outdoor arts and crafts zone, demonstrations and information stalls for children, teens and adults themed around sustainable living, plus a programme of talks by eco and sustainability experts. Spanning across Jameel Arts Centre and the Jaddaf Waterfront Sculpture Park, the yearly festival also includes a Green Bazaar, which offers a broad variety of indoor and outdoor plants, plus related eco-conscious and sustainability-aware gifts and products from local businesses, while the Art Jameel Shop features a special festival-themed collection of books and design objects.
New to this edition of Down to Earth is the first Farmer's Market – a collaboration with Teible, the farm-to-fork restaurant located at Jameel Arts Centre. The Farmer's Market invites local farmers offering fresh seasonal produce directly to the community while raising awareness about sustainable practices
Watch this space for the full programme of talks.
Night School 2023: Make History
January 8-29, 2023 | 7 pm – 9:30 pm (click here for the full schedule)
Project Space
In Dubai, you witness history being made. It happens most emphatically across the landscape, in the construction of towers, ports, roadways and bridges. You could say that builders, architects, engineers, and planners are hired to write that history. And the work requires creative engagement with both the past and the future.
At Night School this year, we will encounter assembled skylines alongside other ways that history gets made: filed inside halls of institutions, resurfaced during a garage renovation, concealed in the ground below, or sprouting from the landscape around us. Gathered in a city that arises through its connections to the world, we will examine how the evidence of Dubai's history streams through places nearby and far.
Join architect and writer Todd Reisz for the second Night School at Jameel Arts Centre. This year's theme is Make History. Local and international scholars will join a seminar of Dubai residents over three weeks in January to explore how history gets written, and constructed, in Dubai and the greater region.
The seminar will meet from January 8 until January 29, on Sunday and Wednesday evenings at 7:00 p.m. There are also some planned evening film screenings.
Professionals, students and everyone who is curious are welcome to register for the free course. No prior academic experience is necessary. The only requirements: a commitment to all 7 seminar sessions and proficiency in reading English texts.
Submit your application until November 25. Accepted candidates will be contacted by December 10, 2022.
Todd Reisz is the author of Showpiece City: How Architecture Made Dubai (Stanford University Press, 2020) explores architecture's packaging to sell Dubai on a global stage. At Jameel Arts Centre, he curated the exhibition Off Centre/On Stage (2021), wrote the eponymous publication (Khatt Books, 2021) and led the first Night School (2022). He also co-edited with Sultan Sooud Al Qassemi Building Sharjah (Birkhäuser, 2021), an archival investigation of that city's vanishing 20th-century landscape.

Workshops and programming
Reading Group: Eco/Sci/Fi – Session 4
November 13, 2022 | 11:00am - 1:00pm
Jameel Library
RSVP here
Jameel Library presents another session the Reading Group: Eco/Sci/Fi. These reading group sessions provide participants with science fiction writing that explores themes within and around ecology. Each session within this themed series features a different reading group leader, whose aim is to foster a discussion around sustainability, environmental issues and technology within speculative futures (and pasts).
In this session of the Eco/Sci/Fi series, participants will be reading excerpts of Nausicaä of the Valley of the Wind by Hayao Miyazaki. The session is led in English by cartoonist Aisha Thani.
The reading groups are free and open to all. Registration is required, as space is limited. Registered participants are expected to commit to the reading material and to attend the session they have registered to maintain a respectful, informed and open discursive environment.
Aisha Thani is an Emirates based webcomic artist, insect enthusiast and nature lover. She authored and illustrated the webcomic Warrior U in 2009. Her more recent work Si3loh is a webcomic about an underdog who tries to fight folklore jinn.
Her work can be read in the Sharjah Art Foundation's comic anthology Corniche and online.

Bimonthly workshops from September 2022 to January 2023:
The Water Diviners IV: Collective Story-Making Inspired by Folklore and Water
September 10, 2022 - January 14, 2023
Online, Sahaab
RSVP here
This workshop is related to the exhibition 'An Ocean in Every Drop' (see below)
As part of her long-term practice on Palestinian folk tales and their connection to landscape and water sources, artist Jumana Emil Abboud will be leading a participatory workshop exploring natural water sources in Dubai and the wider U.A.E. Through discussions, collective readings and writing exercises, workshop participants will contribute to the co-authorship of a story of water; thinking through both personal histories and relationships to sites of water as well as tackling broader questions of humanity's entanglement with 'the natural'.
Water divining- the ancient art of locating natural sources of water- is the conceptual driver for this workshop series, where storytelling is used to locate sites of water geographically, historically and culturally.
The workshop series will culminate in a performance based on the co-authored texts and imaginaries, to be performed collectively at selected sites of water on Sunday, January 15th 2023.
The initial meeting for the workshops will take place at the Jameel Arts Centre, continuing online approximately every two weeks. Please note this is a series of workshops and participants are expected to commit to the full series.
Session will be led in English but writings can be in a language of choice
Jumana Emil Abboud uses drawing, video, performance and text to navigate themes of memory, loss, and resilience. Her creative practice is inspired by Palestinian oral history, with a focus on folktales and their connection to actual sites within the landscape, and to water sources in particular. Abboud lives and works in Jerusalem and London where she is currently a PhD candidate at Slade School of Art.
The dates, times and locations of the workshops are as follows:
Saturday 10 September 2022 Online, 11am-3pm with lunch break
Saturday 1 October, 2022 Online 3pm-5pm
Tuesday 11 October, 2022 Online 6-8pm
Saturday 29 October 2022 Online 3pm- 5pm
Tuesday 08 November, 2022 Online 6-8pm
Saturday 26 November 2022 Online 3pm- 5pm
Saturday 10 December 2022 Jameel Arts Centre 3pm- 5pm
Saturday 14 January 2023 Jameel Arts Centre 3pm- 7pm with break
Expert-led gardening programme: My Winter Garden
September 24, 2022 - December 10, 2022 | 9:00am-12:00pm
RSVP here
The Friends of Jaddaf Community Garden and Dr Nasser Rego, founder of SoWeGrow and Zoë: farm for life, are back this summer with an inspirational programme for all gardening enthusiasts. In collaboration with Art Jameel, 'My Winter Garden' is a twelve-week programme designed for all to learn firsthand how to grow organic vegetables as experts do.
The programme allows participants to cultivate gardens that thrive in the high temperatures of Dubai and is facilitated by an organic farmer. The sessions are workshops that range from theoretical to practical and deep dive into permaculture, transplanting, composting, and community building. The programme takes an organic approach to building and looking after your garden while reconnecting with nature to boost your holistic well-being. Participants will get a chance to nurture gardens and explore how they can contribute to their community by learning about agriculture, education and sustainability.
Join Dr Nasser Rego, organic farmer and educator, and gardening enthusiast Amin Rashidi, from The Friends of Jaddaf Community Garden, for an introductory session about 'My Winter Garden' on Wednesday, 7th and 14th, September at 7:00pm at Jameel Arts Centre to learn more. Whether you're a beginner with basic knowledge of plants or an experienced grower looking to hack the art of growing abundantly, this course is designed for you.
The programme is aimed at participants aged 16+ and runs every week for 3-hour sessions; limited spaces are available (early booking recommended). The programme cost is AED 2,200 (USD 600) per person, and course fees include a take-home starter kit to kick-start your gardening journey!
If you book with friends and family, you can avail a 10% discount on your total bill. On the payment page:
A. Select the number (Qty). of persons (has to be more than one person) registering for the programme and
B. Apply the following discount code: JAMEEL10OFF
Terms and Conditions apply.