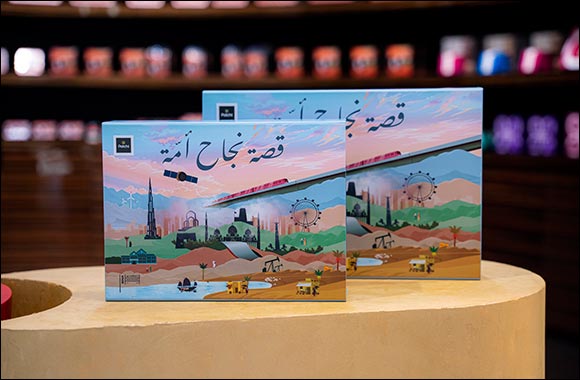 The commemorative gift box marks the Nation's Success Story that culminate in an immersive experience and unforgettable moments
Dubai, UAE – 29th of November 2021: Patchi, the leading premium chocolate gift destination shaped by passion and sparked by innovation, is celebrating the UAE's Golden Jubilee with a unique tasting experience featuring 50 new flavors that celebrate heritage, savoir-faire, quality, and chefmanship.
With a combination of the finest chocolate and The Nation's Success Story, Patchi will signify the Taste of the Fiftieth through a unique experience – giving customers a creative choice to spread chocolate happiness to family, friends and business associates. The limited-edition collection celebrates the UAE's rich heritage through flavors, textures, colors and aromas. Consisting of sesame, dates, saffron, nuts, cardamom, tahini and exotic combinations that can be tasted in eight boutiques across the seven Emirates – Patchi's exquisite collection makes the perfect gift, an entertaining option or a luscious treat you will not want to share.
Inspired by the remarkable achievements of the United Arab Emirates over the last 50 years, Patchi's decadent gift box was exclusively designed to celebrate and echo the spirit of the union of all the seven emirates with a delectable showcase of sensory enjoyment and emotions. It depicts the best of Emirati heritage and its success story, journeying into a beautiful past that bears the fingerprints of forefathers with pearl diving and fish trading – to its exceptional present as a global center for innovation and a pioneering future with space exploration.
Patchi is also marking National Day celebrations during this period with a range of exciting giveaways and activities across the UAE. Some boutiques include Henna painting, Al Ayyala dance performance, special treats for children and prize draws among others.
Chocolate lovers are welcome to discover the world of chocolate gifting and refinement at Patchi boutiques across the UAE from the 25th of November 2021 to celebrate the historic UAE Year of the Fiftieth.