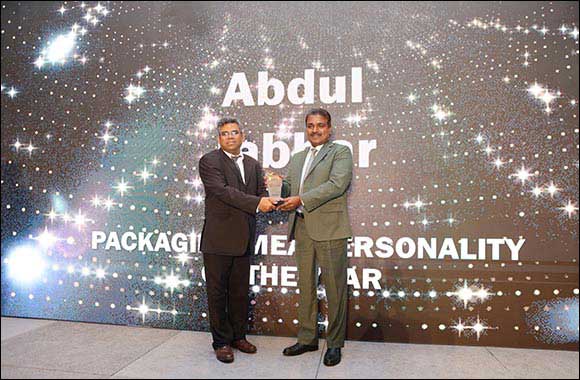 Awards include best in class packaging printer and recognition for sustainable packaging
Dubai, November 28, 2021: Hotpack Global, the world's leading manufacturer of disposable food packaging products, scooped four awards at the Packaging Resource & Innovations Middle East Awards 2021 (PRIME Awards 2021), the prestigious competition for the regional packaging industry in Middle East and Africa (MENA).
In a statement, Hotpack Global said, winning the PRIME awards were a milestone for the company's endeavors in consistently excelling in the packaging business with focus on sustainability.
"These prestigious awards are a testimony and a vindication of Hotpack's business and sustainable community proposition which we have been consistently improving upon by adopting innovative technology and processes. The awards inspire us to further contribute to the society and better our business and industrial practices to enhance quality and safety," said Mr. Abdul Jebbar PB, Group Managing Director of Hotpack Global.
Among the awards, Mr. Jebbar was honored as the 'MEA Personality of the Year,' recognizing his leading and pioneering contribution to the global and regional packaging industry.
Other awards Hotpack bagged were silver for 'Best-in-class Packaging Printer – Converter of the Year,' Bronze for 'Sustainable Packaging of the Year'.
Prime Awards is committed to recognizing excellence in design, innovation, print, sustainability and quality. Designed and created to honour and provide a source of inspiration to the regional packaging fraternity, the programme is known as a yardstick to measure the quality, innovation, sustainability and performance across the key sectors of the packaging industry.
Hotpack Global has a group turnover of AED 950 million and has a presence in 25 locations across the Middle East, UK and a chain of network in other Gulf and African countries. The company's sales centres are present across the seven emirates in the UAE, as well as in other G.C.C. countries. Hotpack manufactures and supplies over 3,500 disposable food packaging products.
Hotpack's complete range of disposable food packaging solutions include eco-friendly kraft boxes, trays, paper bags, paper cups, takeaway containers, Aluminum foils, flexible packaging and luxury folding carton packaging products. Hotpack has its own most-advanced niche technology prepress. Keeping high standards of customer service at the forefront of its operations, Hotpack Packaging Industries always strives to provide an extra level of quality assurance and reliability while following the best technical practices which reflect well in the in the final print quality. Hotpack ultra-modern PET extrusion plant in National Industries Park produces recyclable bakery containers, salad bowls, juice cups and more. Hotpack also specializes in the production of facial tissues, napkins, kitchen rolls & toilet rolls under the brand "Soft n Cool".