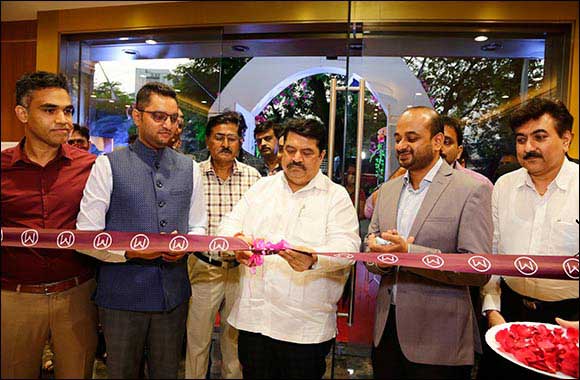 November 22, 2021: Malabar Gold and Diamonds, one among the largest jewellery retailers globally with a strong retail network of over 260 outlets spread across 10 countries, has launched its new showroom in Ghatkopar, Mumbai, taking the total showroom count in Maharashtra to 11. Located at MG Road, opposite Ram Mandir in Ghatkopar East, the showroom is right in the heart of the jewellery market in Ghatkopar, offering excellent design variety and customer service. The showroom was virtually inaugurated by Mr. M.P. Ahammed, Chairman, Malabar Group in the presence of key Malabar Gold & Diamonds dignitaries including K.P. Abdul Salam, Vice Chairman, Malabar Group; Shamlal Ahmad, Managing Director - International Operations, Malabar Gold & Diamonds; O Asher, Managing Director - India Operations, Malabar Gold & Diamonds and other management team members. Chief guest honorable MP Mr. Manoj Kotak opened the showroom for customers.
Spread across 3,700 sq. ft., the new Malabar Gold and Diamonds showroom houses an impressive array of beautifully crafted jewellery in the finest gold, diamond and precious stones. A wide range of collections suitable for the diverse cultures and customs of the local community as well as an extensive range of designs to suit traditional and contemporary tastes has been made available to cater to the needs of the customers.
From resplendent antique jewellery to ethereal polki sets, vibrant gemstone collections, traditional gold ornaments, elegant diamond masterpieces, contemporary lightweight designs and mangalsutras – the new showroom offers jewellery for every mood and occasion. The store also showcases chandan and traditional bridal jewellery. The well-acclaimed Brides of India Collection, with specially curated Maharashtrian and Gujarati bridal jewellery, makes the store a must-visit for prospective brides.
Malabar Group chairman MP Ahammed said, "We are committed to providing excellent products and unmatched value to our customers. I am confident that our new store in Ghatkopar will impress jewellery buyers with its strong customer service and product variety. We are grateful to the city and its people for welcoming us and allowing us the privilege of being part of their auspicious occasions and celebrations."
As a part of the group's CSR initiative, Malabar Gold and Diamonds will set aside 5% of the profit earned by the Ghatkopar showroom for various charitable and philanthropic activities in this region.