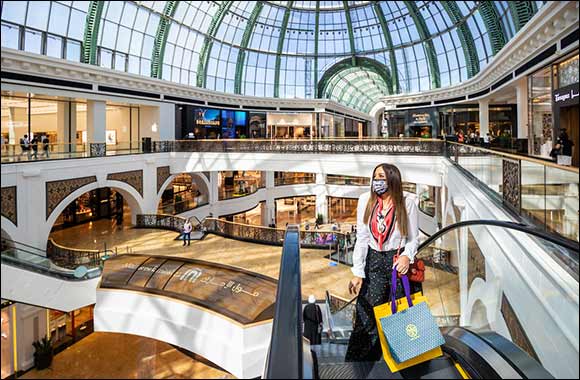 Dubai, United Arab Emirates - 22, November 2021: The second edition of 2021's 3 Day Super Sale (3DSS) is sure to be a 72 hour retail extravaganza. Running from 25 to 27 November, the shopping weekend will see shoppers grab mega deals, massive savings, and monumental prizes! Residents and visitors will see prices drop by up to 90 per cent at more than 500 brands, along with some incredible promotions at the city's most popular shopping malls.

Organised by the Dubai Festivals and Retail Establishment (DFRE), all participating malls and outlets will follow strict health and safety protocols in line with government requirements to prevent the spread of Covid-19, including the mandatory wearing of masks and social distancing requirements.
Majid Al Futtaim Malls
Those looking to bag more than just a bargain should make their way to Mall of the Emirates, City Centre Mirdif, City Centre Deira and City Centre Me'aisem for a chance to win 1 million SHARE points.
The ever popular Majid Al Futtaim Rewards program is giving shoppers the opportunity to win big this 3DSS. Majid Al Futtaim SHARE rewards members who spend AED300 at any of the participating malls and enter their scanned receipts on the SHARE app will be automatically entered into the lucky draw. There will then be one recipient, drawn at random, earning 1,000,000 SHARE points, which is equivalent to AED100,000. Winner will be announced on 1 Dec.
Dubai Festival City Mall
Dubai Festival City Mall will be giving residents and visitors even more reason to splurge this 3 Day Super Sale! Shoppers who spend AED1,000 or more at Dubai Festival City retailers will receive 10 per cent cashback on all spends in the form of a Dubai Festival City Mall gift card. Those looking to make full use of this promotion can bring up their cashback to 12.5 per cent by making a minimum purchase of 50AED at Ripe by the Bay, the mall's seasonal outdoor bazaar which is running in partnership with Ripe Market.
Ibn Battuta Mall
Residents and visitors stopping by Ibn Battuta Mall during the 3 Day Super Sale will have the opportunity to win a one night stay at Premier Inn Dubai Ibn Battuta Mall, along with the chance to enjoy 20 per cent off any F&B outlet at the hotel! To enter the lucky draw, shoppers must spend a minimum amount of AED300 and get their receipts validated at any of the customer information desks throughout the mall. Winners will be announced on 28 November.
Emaar Malls
The Dubai Mall, Dubai Marina Mall and The Springs Souk will be offering three days of incredible savings for the entire family. No matter what shoppers are searching for, there will be deals on absolutely everything. Residents and visitors are encouraged to download The Dubai Mall app on the App Store or Google Play to plan their visits. Shoppers can enjoy a seamless, safe shopping experience with the malls' delivery service. To avail this service, they simply need to spend a minimum of AED 500 at The Dubai Mall, drop their shopping bags to any shop and drop desks and get their shopping delivered to their home or hotel.
Up To 90 Per Cent Off
Shoppers are sure to bag fantastic deals on a wide range of electronics, home décor, clothing, accessories and so much more throughout 3DSS. Participating department stores include Bloomingdale's, Debenhams, Galeries Lafayette, Lulu, THAT, Harvey Nichols and Marks & Spencer. Staple women's fashion brands include Bershka, Nishat Linen, women'secret, Reiss, Koton, Sfera, Mango, and River Island. Men can treat themselves at Calvin Klein, BALMAIN, Giordano, Boggi, American Eagle Outfitter and Beverly Hills Polo Club, Lacoste, Pull & Bear and Sacoor Brothers. There will be savings for the whole family at LC Waikiki, CCC, H&M, MAX, Kiabi, Matalan and GAP.

Shoppers looking for sparkles will find a number of jewellery stores taking part in 3DSS, including Al Futtaim Watches and Jewellery, Jawhara Jewellery, Damas, Rivoli, Seddiqi & Sons, Swarovski and Zen Diamonds. There will also be phenomenal steals on homeware available at La Marquise Diamonds & Watches, Homes R Us, DWELL, ACE, Home Centre, Think Kitchen and Tanagra. Perfume specialists such as Abdul Samad Al Quraishi, Bin Kamal Perfumes, Oud Milano, Al Mukhalat Perfume and V Perfumes will also entice scent connoisseurs by dropping prices for 3DSS. Big ticket items such as televisions will also be on offer, along with a myriad of other electronics items at E-City, Harman House, Jumbo Electronics, Sharaf DG and Virgin Megastore.