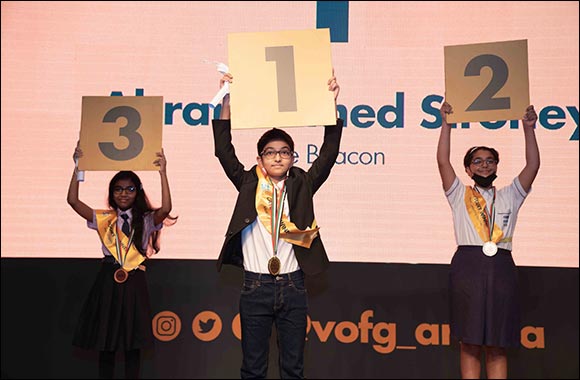 • HH Sheikha Hissa bint Hamdan bin Rashid Al Maktoum awards children for their creativity and commitment to a more sustainable future
• Surprise messages of support from Dr Jane Goodall, Harry Baker and Dr Afra Atiq delight winners
Dubai, UAE, 26 September 2021: The 2021 winners of the Middle East edition of the Voices of Future Generations, the inspiring global writing competition for children, were announced today at an award ceremony at the Zabeel Ladies Club, Dubai. The unique writing initiative, launched under the patronage of UNESCO in 2015 and brought to the Middle East in 2019, was created to promote sustainability awareness and the UN Convention on the Rights of the Child.
The regional competition is organised by the Emirates Literature Foundation on behalf of HH Sheikha Hissa bint Hamdan bin Rashid Al Maktoum, the Goodwill Ambassador for the initiative for the Middle East Region, who commented: "I am so glad to see how this competition has helped so many children understand the impact we have on our planet and how it has inspired them to creatively find solutions for our environment through sustainable development goals."
The initiative's sister organisation Roots & Shoots UAE congratulated the children, with its Goodwill Ambassador for the region, HH Sheikha Maytha bint Hamdan bin Rashid Al Maktoum saying: "Caring for our planet is the most important task for future generations. Initiatives like ours are designed to help them begin that process and instil in the children the knowledge that they can make a difference."
Children and their parents and teachers were delighted with a surprise greeting from the world's leading primatologist, Dr Jane Goodall, the founder of Roots & Shoots, as well as World Slam Poetry Champion Harry Baker, who performed a new poem about the Sustainable Development Goals together with Emirati slam poetry favourite, Dr Afra Atiq.
The competition, for children aged 8 to 12, encourages children to write adventure stories about characters overcoming challenges and creating a more tolerant, sustainable world. The best entries are published in a book in Arabic and English and shared internationally. More than 900 entries were received in the 2021 round of the competition, a year-on-year increase of 50 per cent.
New for this year is The Gifted Writers' Programme, a talent development programme in which the judges identify up to 50 strong writers from the submissions, who will be offered extra coaching from professional editors and the option to resubmit their stories in the coming cycle.