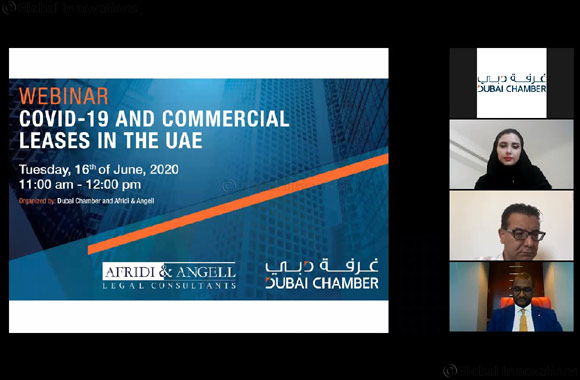 • Led by Afridi & Angell, presentation covered a wide range of topics, including legal obligations and relief options for landlords and tenants, negotiating commercial leases and the shift to remote working.
• Kazim: Webinar provided clarity for business owners looking for information on existing laws and guidance on dealing with commercial lease contracts.
• Webinar attended by 288 participants from various sectors of business community.
Dubai, United Arab Emirates, June 17, 2020: Landlords, tenants and business owners dealing with the impact of Covid 19 should be informed about their financial obligations under new and existing contracts, according to legal experts speaking at a recent webinar organised by Dubai Chamber of Commerce and Industry.
The webinar, titled Covid-19 and Commercial Leases in the UAE, was attended by 288 participants representing various sectors of the business community.
During the event, Shahram Safai Partner – Afridi & Angell, and Nazim Hashim Senior Associate – Afridi & Angell, addressed common challenges faced by tenants and landlords due to Covid-19 and its potential effects on commercial lease contracts. Other issues examined in detail during the sessions include relief options for landlords and tenants, key elements of negotiating commercial leases and the potential impact of shifting to online and remote working.
"The global shift, including in the UAE, to online services, online retail and remote working is expected to cause a downward demand for retail and office space", commented Shahram Safai.
"All stakeholders including developers, purchasers, landlords, tenants and governments need to adapt to the new normal," he added.
For her part, Jehad Kazim, Director of Legal Services Department at Dubai Chamber, noted that the webinar provided much needed clarity for businesspeople looking for information on existing laws and guidance when dealing with commercial leases.
Covid-19 has directly affected the ability of some companies and individuals to fulfil their financial obligations, especially with regard to commercial leases, Kazim explained, stressing the importance of staying up-to-date on regulatory developments and relief options, while also adapting to the changes in business landscape.
She added that webinars organised by Dubai Chamber continue to see a strong response from the business community, as virtual events shed light on several timely issues and new challenges emerging as Covid-19 unfolds.
Dubai Chamber regularly organises webinars, training seminars and workshops to raise awareness about key business trends and laws impacting Dubai's private sector. These events fall in line with the Chamber's strategic objectives of creating a favourable business environment and supporting business growth in the Emirate.