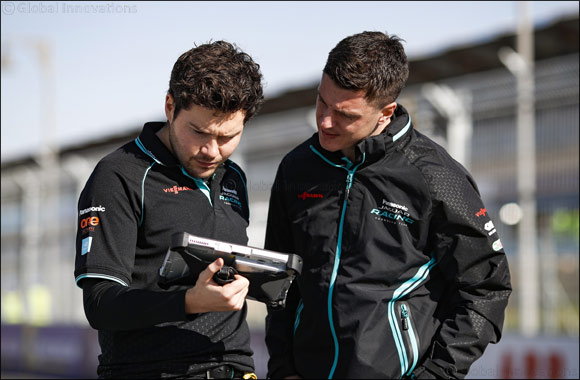 • Jaguar Racing publish a new episode of the new 'RE:CHARGE @ Home' video podcast series
• In the latest episode, Amanda Stretton speaks to James Calado and his Performance Engineer, Connor Summerville and Race Engineer, Phil Ingram, about working together at Panasonic Jaguar Racing, the pressures they face during a race weekend and how they got to this point in their respective careers
• Watch and listen to episode nine of the 'RE:CHARGE @ Home' on YouTube here: https://bit.ly/RAHYouTube-EP9
• Subscribe to the series and listen to all episodes on Apple Podcasts: https://bit.ly/RAHApple & Google Podcasts: https://bit.ly/RAHGoogle-EP9
• Also subscribe to the series now to listen to all episodes on Spotify: https://bit.ly/RAHSpotify-EP9
1 June 2020, Dubai, United Arab Emirates: Jaguar Racing has released the latest episode of 'RE:CHARGE @ Home' – the new video podcast series. Available across YouTube, Spotify, Apple and Google Podcasts this episode features James Calado and his engineers – Phil Ingram, Panasonic Jaguar Racing Race Engineer and Connor Summerville, Panasonic Jaguar Racing Performance Engineer.
During this episode the engineers reveal how they got to this point in their respective careers, working together at Panasonic Jaguar Racing and the pressures they face during a race weekend.
James Calado also explains the importance of a good relationship with his engineers and his experience racing in the ABB Formula E Race at Home Challenge, in support of UNICEF.