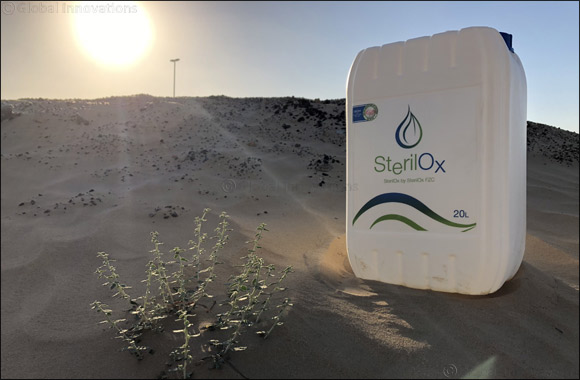 **Multi-purpose Sterilizer 99.99% effective against Covid-19 takes the region by storm. Use it on Children's Toys, any hard or soft surfaces, AC Ducts and so much more!**
Dubai, United Arab Emirates, April 01, 2020: Maintaining a clean, healthy and sterile home has never been more prevalent. With the current CoronaVirus outbreak we have to spend the majority of our time indoors with our family, children and pets. During this time it is vitally important to make sure that our living spaces are clean from both a health perspective and to really relax and feel comfortable in our surroundings. With this in mind, brand new SterilOx has excitingly just launched in the region and is here to ensure lots of hassle-free cleaning days ahead! SterilOx received the Certificate from the laboratory in the United Kingdom confirming its 99.99% efficacy against the strains of Covid-19 (CoronaVirus).

Whether you want to sanitise your hands or your water for cooking, wash and sanitise your bathroom, clean and sanitise your A/C ducts, disinfect and deodorize your rooms, pipes and surfaces or clean your tables, furniture, curtains or children's toys and your personal transport SterilOx is the only product you need! What's more, there is no need to rinse after use; it is 100% safe all you need to do is spray and go!

This disinfectant and sterilizer is currently the most effective in the retail market and boasts being skin contact safe, non-irritating, non-staining and eco friendly. The non harmful solution is non-damaging on any surface and perfect for every day customer use with a convenient 5 litre jerrycan and soon also 0.5 litre spray bottle available.

SterilOx products are manufactured in Ras Al Khaimah by collaboration of a Russian Research and Development Institute and an international team of businessmen and engineers. Only local ingredients are used that deliver a highly effective natural and eco-friendly disinfectant, sterilizer, sanitizer and deodoriser in one easy to use solution.