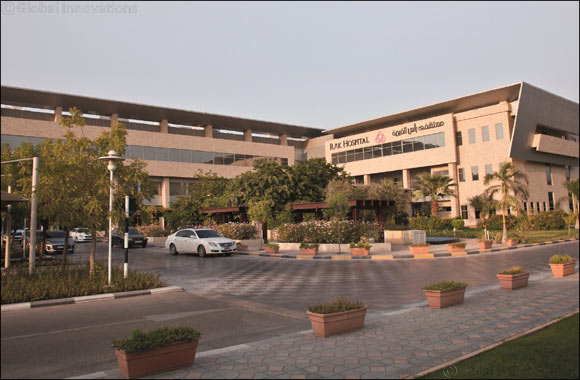 RAK Hospital's Rehabilitation and Physiotherapy Center will be open to complimentary visits from 1st to 5th March 2020, 2pm to 4pm
The hospital's physiotherapist, podiatrist and dietician will guide visitors to better foot health
Diabetic Foot and lower limb complications impact around 40 to 60 million people globally; certain foods also encourage inflammation in our feet

February 26th, 2020 - Ras Al Khaimah, UAE: In order to educate UAE residents on ailments and conditions related to foot health, RAK Hospital in Ras Al Khaimah is offering a five-day complimentary foot health consultation from Sunday 1st March to Thursday 5th March. Organised by the hospital's Rehabilitation and Physiotherapy Center, the camp will be open to people with any kind of foot-related condition, where they will be guided by the hospital's podiatrist, physiotherapist and dietician on long-term solutions to improve their foot health. Visitors can consult the doctors between 2pm and 4pm.
The free camp is particularly beneficial for people suffering from conditions as arthritis, diabetes, obesity, inflammation in feet and legs, gait issues in children, difficulty in running, etc.
Explaining the reason behind the camp, Ms. Cornelia Gloor, Physiotherapist and Head of Department, Rehabilitation and Physiotherapy Center at RAK Hospital said: "Despite the fact that several chronic ailments have direct impact on our feet, people generally tend to take their foot health for granted. Inflammation, for instance, is commonly associated with arthritis and gout, while it's quite logical to draw a connection between increasing weight and pain in the feet. Moreover, there are certain foods that encourage inflammation in our body, which is where a dietician's advice is needed. A regular foot check-up is also essential for chronic conditions, for example, diabetes".
Diabetic patients are at a much higher risk of developing foot complications, resulting in loss of blood supply to the feet, loss of sensation, cramps and pain in the legs and longer recovery time from cuts and bruises. According to the International Diabetes Federation, Diabetic Foot and lower limb complications impact around 40 to 60 million people globally with amputations being 10 to 20 times more frequent.
Appreciating the need for such camps, Dr Raza Siddiqui, CEO of Arabian Healthcare Group and Executive Director at RAK Hospital said: "Educating on health issues has always been a foremost agenda for RAK Hospital. Once again, through this complimentary foot health camp we want to draw UAE residents' attention to foot health and the need to monitor it properly".
With the help of various therapeutic exercises and techniques, physical therapy can help young children, adults and elderly overcome various physical impairments and deformities in a far relaxed environment. Moreover, physical therapy is particularly useful to correct any abnormality in walking pattern, such as being flat footed, walking and balance disorders in children and bone diseases in the elderly while also rectifying injuries caused by hunching over laptops, poor posture, a sedentary lifestyle and injuries related to athletes.