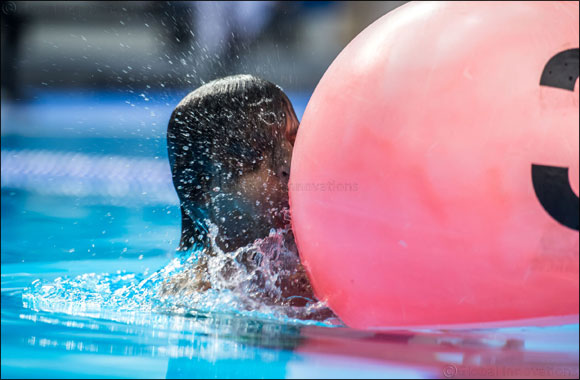 Dubai, 26 February 2020: Pre-tournament training sessions for the 14th edition of Fazza Championship for Freediving, organised by the Hamdan Bin Mohammed Heritage Center (HHC), will begin on Sunday, March 1, at the Hamdan Sports Complex.

Trainings will continue for four consecutive days until the start of the main tournament, which will be held over three days, from March 5 – 7 at the same venue. The local and international participants will train to acclimatize in underwater life.

Souad Ibrahim Darwish, HHC Director of Championships, explained: "the Fazza Championship for Freediving is a heritage sport, designed to embody the traditional ways of diving in the UAE and the Arabian Gulf. Divers do not use any tools or underwater equipment but rely instead on traditional diving techniques used by early mariners in the region."

She added the HHC, which has been organising the unique heritage sport in the past 14 years, has institutionalized and made innovations in the conduct of staging the annual competition. Smart technology is now used in registrations, monitoring and broadcasting instantly the results of the tournament.

H.E. Hamad Al Rahoumi, Head of the Fazza Championship Freediving Committee, said that this year's tournament would be another record-breaking one, with previous winners and new participants expected to set new records in holding their breath underwater.

The tournament will also display world-class standards and the winners will be rewarded with generous prizes.
Al Rahoumi added: "There will be medical examinations before the start of the tournament to ensure that no illegal stimulants are used. Emergency teams and rescuers have already been assigned to all the participants to ensure their health and safety."
Year 2019 Winners of Fazza Championship for Freediving

Juniors Category:
UAE Juniors Team – Mohammed Al Marzouqi won First Place (timing: 2:56:89 minutes).
Hamad Al Marzouqi won Second Place (time: 2:36:55 minutes).
Fares Babasil from KSA won Third Place (2:31.54 minutes).

Nationals and GCC Category:
Ibrahim Al Sulaitni from Oman won First Place (time: 7:14:62 minutes).
Hassan Ali Al Sharrah from Kuwait won Second Place (time: 6:18.24 minutes).
Bassam Al Farsi from KSA won Third Place (time: 6:05.38 minutes).

Professionals Category:
Mateusz Malina from Poland won First Place (time: 10:06:05 minutes).
Goran Čolak won Second Place (time: 10:00:85 minutes).
Vilano Zanchi from Croatia won Third Place (time: 9:32:16).