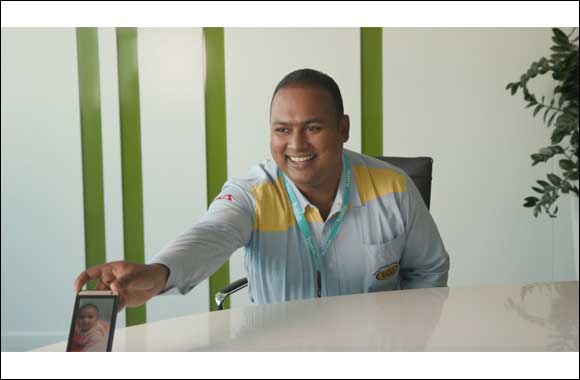 Special mobile package for Captains goes live today
Dubai, UAE - 10 February 2020: Hala, the joint venture between the Roads & Transport Authority (RTA) and Careem that offers an innovative way to get around Dubai by enabling customers to book a Dubai Taxi on the Careem app, has partnered with Etisalat, the leading telecom operator in the UAE, to offer its Captains (taxi drivers) a generous data bundle and international minutes package, making it easier for them to be connected with their families.
Around 25,000 taxi drivers in Dubai will now benefit from the year-long postpaid package that can be activated on any existing or new Etisalat UAE mobile number. The offer commenced on the 10th of February and is one of several initiatives by Hala to improve the lives of Captains through partnerships under the guidance of the Roads and Transport Authority (RTA). (Watch promotional video here).
Clemence Dutertre, CEO of Hala, said: "Connecting people, and bringing them together is a core principle of what we do at Hala, and of course our Captains are integral to this mission and our front-facing pillar. They work tirelessly everyday to keep the city moving, delivering the best service to our commuters. In return, we are committed to supporting them however we can, including ensuring they remain connected with their families, many of whom live overseas. In partnership with Etisalat, we are therefore pleased to announce the launch of 'Further Together', giving them access to data packages and international minutes, enabling them to speak to their loved ones and bridge the distance through technology. Bringing them closer together."
Abdulla Ebrahim Al Ahmed, Senior Vice President, Government Sales, Etisalat said: "Today's partnership with Hala to launch the 'Further Together' initiative is in line with our brand direction 'Together Matters' that highlights togetherness among its customers in today's world of connectivity. At Etisalat, we always strive to offer the best value to our customers by forging the right partnerships to provide innovative services. The mobile package being offered to Dubai Taxi Captains will enable them to stay in touch with their customers and families back home."
Ahmed Bahrozyan, CEO, Public Transport Agency said, "Initiatives like these make significant differences to the psychology of the drivers (captains). We are glad that taxi drivers can now avail of discounted bundle from Etisalat, which will help them connect with their families back home much more frequently thus giving them peace of mind and eventually greater customer service. RTA always seeks and supports various initiatives that boost the morale of drivers as well as raises the standards of service."
Hala is helping its Captains adapt to the new digital economy by providing advanced mapping and journey planning tools to deliver the best ride possible. Captains have access to a wider customer base and their time is used in the best way possible, getting them quicker to their next customer in the shortest time thanks to the innovative in-car technology. As a result, they are now able to get more bookings, which have a direct impact on their daily income. In fact Hala conducted a survey in the pilot phase, which showed that 71% of captains said that their earnings had increased, and 80% were happy with the introduction of Hala and the opportunities that Hala is providing them