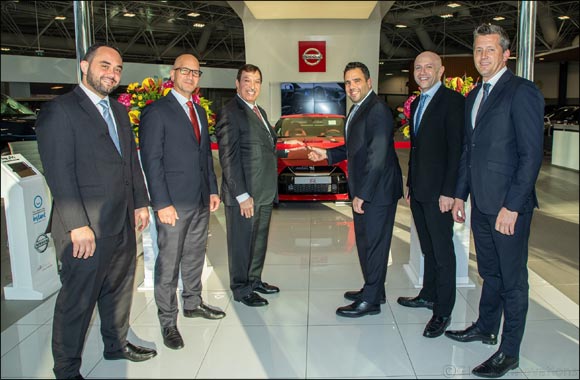 Dubai, United Arab Emirates, 15 December 2019: Arabian Automobiles, the flagship company of the AW Rostamani Group and the exclusive dealer for Nissan in Dubai, Sharjah, and the Northern Emirates, unveiled its largest Nissan Retail Concept showroom on Sheikh Zayed Road. The showroom will focus on delivering exceptional customer service through a seamless integration of all touchpoints in the customer journey as well as on innovation and bringing new customer experiences, thereby consolidating the digital transformation that characterizes every aspect of living today.

Thierry Sabbagh, Managing Director - Nissan Middle East, said: "Arabian Automobiles Company has been our partner for over 50 years, and the opening of the Retail Concept showroom marks a major milestone in our long-standing partnership.
This new and innovative retail concept reflects the diversity in customer expectations and aims at improving customer service and ensuring a globally consistent brand experience that complements modern lifestyles. Placing our customers at the center of everything we do, the showroom will ensure a more digital and customized experience for them pre, during, and post a sale."

Michel Ayat, CEO of Arabian Automobiles, said: "The partnership between Arabian Automobiles Company and Nissan is truly historic. Over the past five decades, we have not only delivered the true Nissan experience to our customers but also exceeded their expectations through exceptional service delivery. The new Retail Concept showroom further underlines our focus on enhancing customer service standards by delivering an innovative experience that is focused on their aspirations. With customer service as the focus of everything we do, the new showroom draws on the potential of both technology and superior design aesthetics, ensuring that every visit is memorable for our customers."

Customers visiting the showroom can learn about Nissan cars using a digital car configurator, while the novel Nissan Drive feature will navigate customers through the brand experience. With its open floor plan, from the minute customers arrive, they are welcomed into a relaxing and engaging environment where they can engage with staff in a comfortable environment as the y familiarize themselves with the products.

With efficiency and convenience as at the heart, the Retail Concept showroom has superior aesthetics, with the iconic Nissan red-color scheme, and elegantly designed car display areas enabling customers to explore the vehicles to their liking and at their own pace. The showroom also incorporates all of Nissan's key-brand elements, such as Nissan Intelligent Mobility, electric vehicles, light commercial vehicles, and the NISMO performance sub-brand.
Visit the Nissan Retail Concept showroom located on Sheikh Zayed Road to experience the difference.