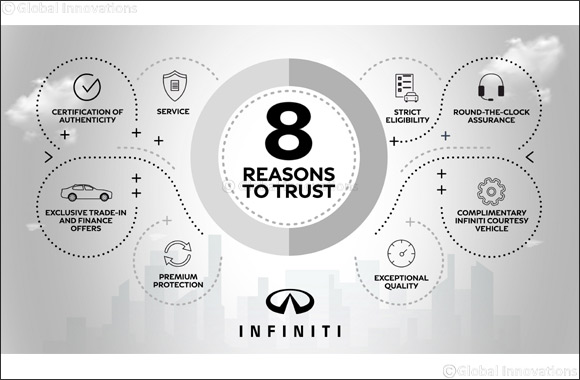 Dubai, UAE, 5th December 2019: Arabian Automobiles, the flagship company of the AW Rostamani Group and the exclusive dealer for INFINITI in Dubai, Sharjah, and the Northern Emirates, is placing drivers front and center by encouraging those looking to purchase a certified preowned INFINITI vehicle to do so exclusively through the INFINITI Certified Pre-Owned (ICPO) program.
Vehicles covered under the program meet a defined quality standard that grants customers access to a host of benefits that the expert team at INFINITI is trained to ensure each pre-owned car is packaged with, including:
• Premium Protection: Peace of mind is virtually guaranteed with the ICPO Limited Warranty that covers each car up to the available manufacturer warranty, for one year from the purchase date, or for 30,000 km, whichever occurs first.
• Exceptional Quality: Every Certified Pre-Owned INFINITI must meet or exceed comprehensive criteria and pass a rigorous inspection. Each component is scrutinized, from the drive train, interior and exterior, to under the hood and chassis.
• Round-the-Clock Assurance: Owners are ensured 24/7 roadside assistance as well as emergency roadside services throughout the duration of their INFINITI warranty.
• Complimentary INFINITI Courtesy Vehicle: For the utmost convenience of its customers, INFINITI will provide customers who need to service their ICPO vehicle a courtesy INFINITI car to keep their day uninterrupted and on schedule.
• Exclusive Trade-in and Finance Offers: Owning an INFINITI Certified has never been easier or more rewarding and comes complemented with a wide range of flexible plans that are designed to deliver vehicles as per the terms of each customer.
• Strict Eligibility: Every ICPO is maximum five years old or newer, with less than 120,000 km on its odometer.
• Certification of Authenticity: INFINITI Certified vehicles receive a thorough 190-point inspection, reconditioning, and a service history check.
• Service: Service contract options are available on INFINITI Certified Vehicles, bundled with a 20% discount.
Since its launch in 2017, the ICPO program has presented car drivers and INFINITI enthusiasts with exceptional deals and service befitting a brand that delivers on the promise of quality and certification.