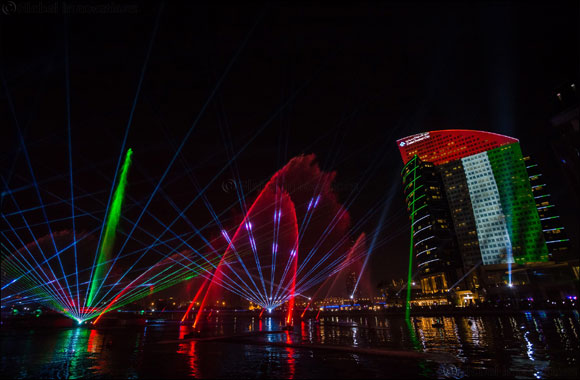 Dubai, UAE, 25 November 2019: Dubai Festival City Mall will join major landmarks in Dubai on Monday night to celebrate the UAE's 48th National Day by projecting an all-new IMAGINE National Day show and two spectacular fireworks displays. The mall is kicking off a National Day experience called "Faces of the Nation", running until 02 December, where visitors can snap pictures of themselves at the designated photo booth for a chance to be personally featured in a special IMAGINE National Day show paying homage to the 'Year of Tolerance'.

With 2019 declared as the 'Year of Tolerance' and Dubai Festival City's aspirations of bringing people of different cultures together, this new IMAGINE show celebrates the UAE as a melting pot of cultures and religions. The National Day show will capture the faces of the hundreds of nationalities that have been coexisting peacefully since the country's founding in 1971.

Commenting on the celebrations, Steven Cleaver, director of Malls at Al-Futtaim, said: "Once again Festival City will be the destination to celebrate one of the biggest Fireworks displays in Dubai, we continue to create shows that are bigger and better each year to attract more visitors to our world-class destination.
On Monday, 2nd December at 8PM and 10PM fireworks will light the sky in celebration of the occasion and visitors can choose to watch them as they dine at one of the multiple restaurants available at the promenade or enjoy the sight from Festival Bay. Visitors can come down as early as 3PM to enjoy the festivities that include live bands, entertainment and activities.

Robinsons Department Store is also offering little ones some exciting kid's events and activities including face painting, colouring, hat customizing arts and crafts workshop. Robinsons will also have a talented nail and henna artist onsite, as well as a DJ to keep the festive spirit alive.

IMAGINE, the two-time record-breaking visual and sensory extravaganza, plays live every night on the iconic Bay and is free for all visitors. The truly unforgettable experience promises to enthral every time, combining lasers, light, fire and water to tell remarkable, emotive stories. The state-of-the-art show seamlessly fuses technology and art and has earned two Guinness World Records for the largest water screen projection and the largest permanent projection mapping.
Date

Activity

Time

29th November, 1st to 3rd December

Live Band at from 3PM to 9PM

Festival Bay

2nd December

Firework Spectaculars at 8PM and 10PM

Festival Bay

28th – 29th November

Kids event from 4pm to 8pm
Henna artist from 5pm to 9pm
Nail artist from 5pm to 9pm
DJ Sam and DJ TayaKruzz from 5pm to 9pm

Robinsons Department Store

30th November

Kids event from 4pm to 8pm
Henna artist from 5pm to 8pm
Nail artist from 5pm to 8pm

Robinsons Department Store

1st to 3rd December

Kids event from 4pm to 8pm
Henna artist from 5pm to 8pm
Nail artist from 5pm to 8pm
DJ Lins on 1st and 2nd December from 5pm to 9pm

Robinsons Department Store