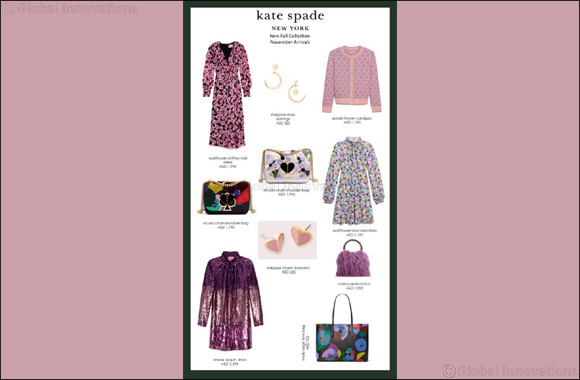 Dubai, UAE - November 25, 2019: Holiday 2019 is filled with sophisticated sparkle. Eclectic textures worn top-to-toe in shades of one color. Velvet, lurex, silk and faux fur in purples, pinks, greys and greens — all topped with a sprinkling of pearls and pavé. (And the occasional bow, too.) The inspiration: A girls' night out.

Styling is focused around color and texture: dressing top-to-toe in gradient color to show off luxurious material treatments. Plum tree to candied lilac. Strawberry glaze to tutu pink. Deep charcoal to pearl grey. Green jade to frosted spearmint. Plus soft neutrals — pale pinks, greys, creams — to lighten up the coziest days of the year. Gentle minis and midis are paired with statement outerwear that's soft to touch. Peek-a-boo necklines, gentle draping and soft pleats add an alluring edge. There are maximal mini bags, headbands that glimmer and shoes that shine.

This season, Creative Director Nicola Glass gives the brand's house codes — a refined approach to color, a unique print language and iconic design elements, like the spade — a distinctly celebratory spin, keeping the brand's core DNA visible and staying true to our brand promise: optimistic femininity.

Ready-To-Wear

We love statement outerwear in pretty colors with unique details and trim — especially Mongolian faux fur, full-length shearling and teddy bear coats and cozy wrap ones. Dresses are long and slim, and jumpsuits that wear like dresses offer an alternative to party dressing. (As do matching top and skirt sets.) Sweater jackets and sparkly tinsel polos transform winter knits into style statements, especially when worn with silky skirts.

We've layered textures including silk, velvet (from soft to structured and sometimes mixed with Lurex), sparkle (pavé, sequins, Lurex and Lurex tweed, Tinsel), pearls and faux fur.

Key details include peek-a-boo necklines, pleating both all-over and hidden, and deconstructed bows. In prints, it's all about pearls and florals.

Handbags & Small Leather Goods

The Holiday assortment introduces new styles while evolving core groups with new colors, design details and novel moments. Key silhouettes include Toujours, a super functional everyday satchel, with our new interlocking spades hardware — is a visual nod to the infinity symbol, loyalty, friendship and love. Lula's defining features are its rounded corners and heart kisslock closure — you'll find them on a convertible crossbody and envelop clutch. Taffie, a soft, casual satchel with a detachable web and leather strap and finished with a secret mirror. There's a mini box bag inspired by a vanity case in color-and-material block mixes and our new saffiano. Bowie, a baguette style reimagined from our archives. It's got an oversized bow on the handle that's removable so you can mix and match. And Collins, a bracelet handle crescent bag finished in clay pavé and jewels, and crushed velvet.
Seasonal updates to our core groups include Nicola bags in faux fur, smooth glitter leather and hand-embroidered foil. Betty has a new silhouette: a soft sack inspired by a grab bag, topped with the group's defining inlaid, hand-ground, hand-poured resin handles. Tinsel, faux fur treatments and a new gunmetal finish dial up the celebratory vibe. Sylvia, now in mini and in a rainbow run of glitter leather, is a perfect gift. Romy gets a festive update in crocodile-embossed metallic specchio leather. Candid has a new convertible backpack. And in Margaux, all-over floral and confetti prints that merge function and fun. (There's a new crossbody style, too.) In Molly, print and colorblock combinations are new, as is the zip-top tote.
Convertible bags that go from day to night to day, chain wallets and mini bags that make maximum gifts round out the assortment.
Jewelry

Sparkle, scallops, stars and stacking are key themes, adding festive newness to both our fashion and core groups alike. We've played with materials, placement and proportion. There are statement rings in pavé, hoop earrings in all sizes, stretch bracelets with a glamorous spin, and sparkly wide headbands and hairclips in an array of seasonal colors in tonal pavé or pearls. Layering pieces makes a statement, too: multiples of one bracelet; big and small necklaces at once; earrings worn in a graduated scale for a major moment.

This season we introduce Flower Facets — irregular faceted stones in a mélange of colors and finished with a single metal leaf inspired by scallops. Heart to Heart explores connecting hearts on necklaces, earrings and bracelets. Modern Pearls, in pale lilac, offer an alluring and modern twist on elegance and are designed to be worn both day and night. Meanwhile, Reflecting Pool is a classic and refined group inspired by fine jewelry, with a twist: each piece features a stone within a stone for a play on two-tone color.

For even more novel moments, Star of the Show features our unique reimagining of the star motif in anodized metal, metal fringe, glitter and sparkle on necklaces, earrings and bangles. And Milo, a dog with details inspired by our house codes in mother of pearl and sandblasted metal, on both bold and delicate pieces.