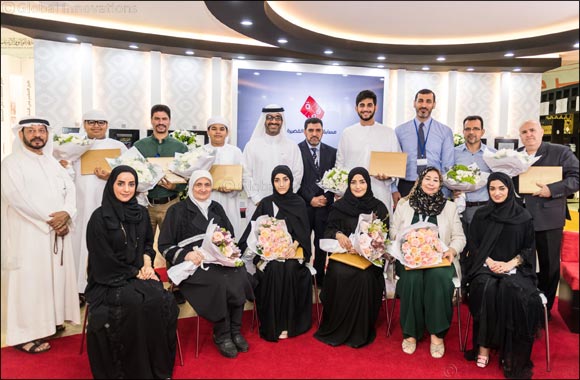 Dubai, November 5, 2019: In line with developing young writers, the Hamdan Bin Mohammed Heritage Center (HHC) has awarded winners of the 3rd edition of the HHC Short Story Writing Competition.

The announcement was made during a special honouring ceremony led by HE Abdullah Hamdan bin Dalmook, CEO of HHC, in the presence of other officials, at the Center's pavilion at the 38th Sharjah International Book Fair (SIBF), which runs until November 11.

In the first category (12-14 years old) Abdul Rahman Mohammed Hamza won for his story entitled 'The Beautiful Past' while Saif Mohammed Al Shamsi was awarded for his work entitled 'Saif Wild Al Noukhatha'.

In the second category (15-17 years old), Mohammed Hamid Al-Hashemi from Al Ittihad Private School won for his piece entitle 'Challenge' while second place went to Fatima Mokhtar from Maria al-Qibtiyya School for her story entitled 'Tales by my Grandfather. Third place went to Mahmoud Sadiq Al Rais of Dubai International School for the story entitled 'Twinkle in Night'.

Dr. Badia Al Hashimi was honored for her efforts in training students this year through the training workshops organized by the Center.

HE Abdullah Hamdan bin Dalmook congratulated the winning students and their respective schools. He said: "The short story competition is one of the most important activities of HHC's Research and Studies Department. This competition, which has been receiving strong participation from schools and students since its launch, has shown great success in the past three years.

"Through this competition, we look forward to contributing to the role of the Center in line with the vision of our government to develop young talents in reading and writing and to train a well-informed and capable generation."

He added: "The stories presented in this competition reveal a high level of cultural understanding and deep expression of heritage from the young participants. The competition has many advantages, the most important of which is that it is an open competition for all Arab nationalities."

The promotion of Arabic language has always been given utmost attention and importance throughout the writing competition.

HHC launched the third edition of the short story competition back in March, in cooperation with Dubai's Educational Zone.

The competition, which started in 2016 which was declared as Year of Reading, has two age-groups: 12-14 years old and 15-17 years old. The winning stories will be published by HHC in a book.

The competition is aimed at encouraging students to learn and highlight the importance of the Arabic language in addition to encouraging the formation of talented students in the field of storytelling. Participants are encouraged to promote the values of knowledge, tolerance and creativity.