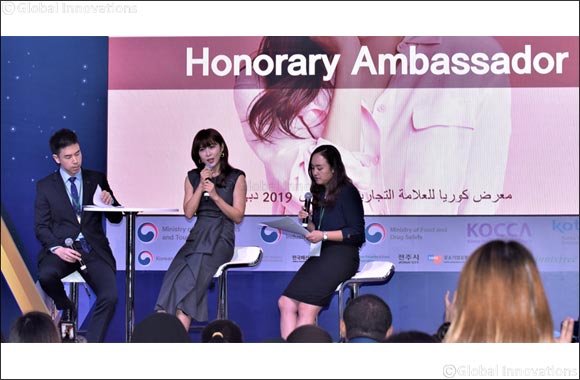 Dubai, United Arab Emirates - October 21, 2019: Korea Trade-Investment Promotion Agency(KOTRA), the national trade and investment promotion agency of the Republic of Korea, wrapped up their very first K-Beauty Brand-up Seminar attracting regional medias, SNS influencers, beauty experts and local opinion leaders to the introduction of competitiveness of the K-Beauty industry at Korea Brand & Content Expo 2019, Dubai.

((Korea Brand & Content Expo 2019, Dubai was held on 17th and 18th Oct., 2019 at Dubai World Trade Center. It is a government level Korean wave(Hallyu) exposition which has been held annually since 2010 hosted by the Ministry of Trade, Industry and Energy of Republic of Korea and organized by KOTRA. It included 1:1 business meeting, B2C exhibition with various activities like Korean food cooking session, medical tour consulting, and Korean make-up and styling show, e-sports match and K-POP concert. During the period, around 130 Korean companies presented their premium products and services in various industries including beauty, fashion, household, F&B, medical, education and other services.

The two-day event also witnessed the signing of key partnership agreements between Korean and UAE government and private sectors. And it provided a platform for Korean companies to promote their innovative products service.))

The tsunami of K-beauty trend has been turning attention to more naturalism-oriented cosmetics, multi-tasking products with minimal practice, and cutting-edge products and technologies. While many beauty fans are falling in love with BB cream or cushion compacts which are the leading products from Korea, now facial masks are also at the very forefront of K-beauty tsunami. And K-Beauty revolution is now in Dubai, U.A.E.

In the U.A.E., Sephora started introducing multiple Korean brands in their kiosks within their skincare section and now multiple brands are presenting themselves on the shelves such as Tony Moly, Skin Food, Too Cool For School, and Dr.Jart+. Amorepacific, a global beauty leader, has added more options for UAE customers by launching its first Etude House outlet in Dubai on March 17, 2018. Moreover, they are planning to introduce additional brands to the market and it will begin with Innisfree.

Paul Lee, GM of Innisfree, Amorepacific Middle East, one of the guest speakers told the audience that they always try to offer innovative beauty solutions powered by the finest natural ingredients, and sourced from Korea's pristine Jeju Island which is key element in their success in the Asia-Pacific and North America region and excited to meet feed-back of the Middle East.
Mr. Lim, Director of COSMAX mentioned that the secret of being a Global Beauty Leader in the ODM industry is that they encourage growth by focusing on large portion on R&D. If we have to talk about examples, 37% of their employees is working on product development and more than 5%of sales is used to find the next best solutions, so there is always something new and exciting for consumers and it works over the world.

Jiwon Ha, the award-winning actress acted in various Korean dramas and movies such as Secret Garden, Empress Ki, and The King 2 Hearts, also showed up for the seminar and shared her beauty secrets with the audience as the official honorary ambassadors for Korea Brand & Content Expo 2019 Dubai.

In recent years, K-beauty products have taken the industry and now more than ever, K-beauty fans in the middle east are excited to look to the far east to find new beauty products. As K-beauty becomes more popular over the region, it would be great to turn our attention to the latest trend and check our dressing tables to know if we already have some of Korean products in between your everyday skin care routines. If not yet, why not give a try?