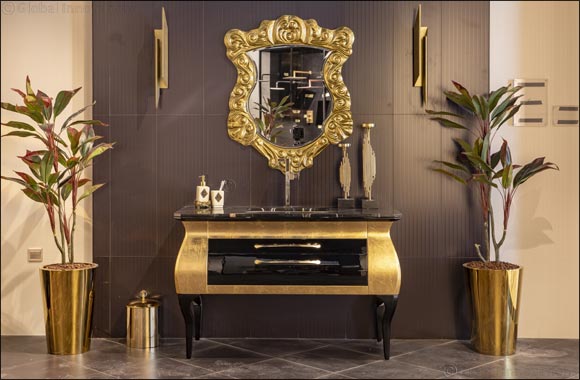 Premium bath décor and design brand offers on-site product immersion with an exclusive list of international brands

17th October, 2019, Dubai: United Arab Emirates: experiential luxury tiles and sanitary brand, Casa Milano, has unveiled its first expansive 30,000 square-feet showroom flagship store on Sheikh Zayed Road, Dubai. Renowned Industrial Designer, Karim Rashid graced the occasion along with Azhar Sajan, Director of Casa Milano which will house over 40 international luxury brands, including Versace, Tonino Lamborghini, Roberto Cavalli, Novellini, Mia Italia, Villeroy&Boch and Disegno Ceramica.

Casa Milano is a one-of-a-kind concept store in the region that features 24-carat gold tiles, diamond bathtubs, live shower demonstrations and Corian technique infused solid surfaces. Each touch point in the showroom is also designed to inspire with various display setups such as hotel rooms, kitchens and bedrooms to showcase its offerings. This includes tiles and sanitary ware like bathtubs, showers, mixers, washbasins and other accessories.

Speaking during the store's launch ceremony, Azhar Sajan said: "We are delighted with the launch of our first store of luxury sanitary ware and tiles in the region. We feel Dubai is an ideal location for brands like us, given its dynamic and cosmopolitan nature. Additionally, as a brand, we are inspired by Italian design and craftsmanship and each of our products will offer something unique to our customers.

He also noted that home and property owners had to endure a long, tedious and expensive process of sourcing quality sanitary ware and tiles products from as far as Europe. "We are endeavoring to fill a niche in the luxury market of the UAE, which is known for its extravagant lifestyle. We feel, regardless of market trends, people unwilling to compromise on quality will keep on buying luxurious products because they take into account the effort and time spent to produce such state-of-the-art products. Apart from that, according to a recent report, demand for this segment is expected to grow by 12 - 20% with a boost from Expo 2020. So, the prospects of luxurious brands having a share in that growth are quite high" he further added.

"I cherish and celebrate design. Casa Milano epitomizes the design and luxury of the kind, which stops me in my tracks. It ranks high in the list of the brands that I am associated with,' said Karim Rashid in his address to the media and guests.