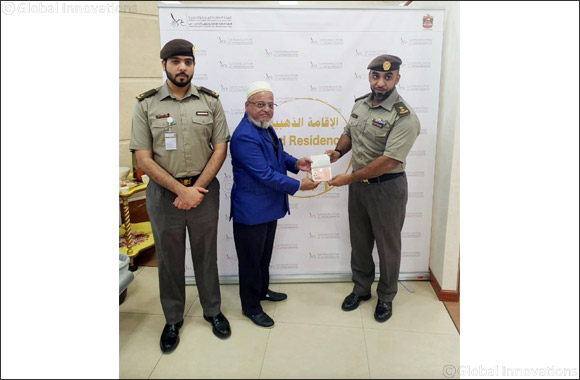 Dubai, United Arab Emirates - October 12, 2019: The 10 year Golden Visa found its way to veterans in the perfumery business – My Perfumes. The visas were ceremoniously granted to Mr. Firoz Husaini and Mr. Mustafa Firoz, owners of the 25 year old group. Their contribution to the perfumery industry is well known, they have been pioneers in the Perfumes and Bakhoors industry locally. Originating in 1993 they have traded in Oriental, French and local scents, with their own extensive manufacturing units.
Mr Firoz Husaini, the founder and Chairman of the group said that "This decision endorsed my commitment and love for the nation. Having spent more than 40 years in this country, I already felt an integral bond with the culture and had long term friendships with the local Dignitaries." Mr. Mustafa Firoz, the Managing Director of the Group stated that "This is my home for as long as I can remember and the Golden Visa felt like a very natural transition and increased the comfort level, boosting investment confidence and commitment to the region."
The Golden visa is a step in the right direction, recognising their love and contribution to the Arabian Culture and its loving people. Recently My Perfumes stepped into an arena very few have ventured into - alcohol free perfumes, these are not only long lasting but each scent has its own unique olfactory signature. All these formulations are chemically sound and ethically crowned fragrances. My Perfumes has distributors in 58+ countries with their in-house fragrances that have grown to be best selling brands.