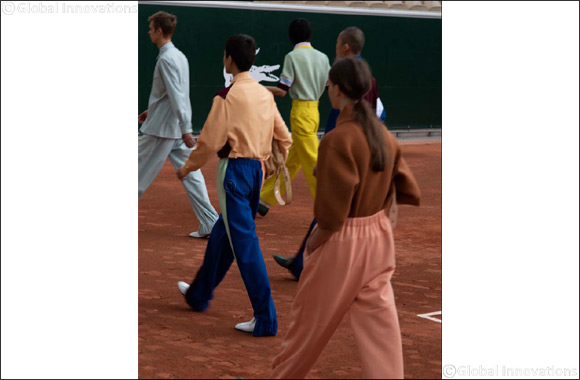 Dubai, United Arab Emirates - October 03, 2019: The Lacoste Spring Summer 2020 runway show marks a return to Roland Garros, the spiritual home of French tennis and the terrain of René Lacoste. Designed by creative director Louise Trotter, the collection is unveiled around the Serres d'Auteuil greenhouses as Julien Benneteau, captain of the French Federation Cup team, and 'Petit Croco' Tiago Pirès practice on the Simonne Mathieu court nearby.
At home in this historic setting, Lacoste celebrates a soulful union of sports, heritage and style. Musing on the unexpected icons of Lacoste history, Trotter continues to challenge tradition with contemporary verve.
Tennis and golfing originals are reworked: an intimate souvenir of John F. Kennedy Jr. packed up for summer camp in his Lacoste polo shirt summons the mood of nostalgia, as does Rene Lacoste's drive from Dieppe to Deauville with Suzanne Lenglen (a world champion known for her grace on and off the court). Playful proportions suggest clothes that you are growing out of and others you are growing in to.
Tailoring is key, reflecting the bygone codes of sports elegance. A Lacoste icon since 1927, the piqué polo is reimagined with a modern hand in squared proportions and magnified details of leather and knit. Joining an Art Deco typeset logo and the all-over 'L' monogram, Robert George's 1926 crocodile is writ large on chest pockets and washed canvas beach bags, or discreet as hardware on slip-on loafers.
Tradition and innovation are aligned throughout, elevating the leisurely pursuits of the everyday. For Spring Summer 2020, Lacoste has collaborated with two British female designers. Collaged sneakers are handmade by Helen Kirkum, upcycled from last season's styles into new hybrids.
The crocodile has been cast as Alighieri for Lacoste brass pendants and bracelets by jeweller Rosh Mahtani, transforming the house symbol as a totemic keepsake.