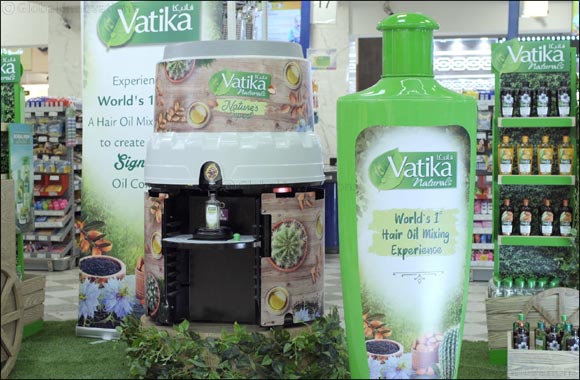 With this machine, women will be able to choose the right ingredients for their hair and blend them for the perfect product for a more shine and healthier hair.
Dubai, UAE, 23 September, 2019: Dabur Vatika, the region's premier natural hair care brand, is the first in the world to launch the hair blending machine to meet the needs of Arab women who are known for their hair care and selection of the best natural materials for an attractive and glamorous look.
The innovative machine, OTM - Oil Teller Machine, can blend four different types of oils such as aloe, argan, almond and black seeds to produce a unique blend of natural oils.
Dabur Vatika's OTM was tested at Choithrams and Etihad Co-operative stores in Dubai, where many women were able to synthesize their own blend of oils.
Commenting on the first-ever global innovation, Rohit Jaiswal, Chief Operating Officer, Dabur said: "It is well known that consumers in the Middle East prefer to use natural oils to naturally care, nourish and moisturize hair. A diversified blend of oils at home as part of its hair care routine. We are delighted to continuously deliver this innovative world-class experience to our customers, which is part of our commitment to providing the best natural hair care products. "
Many Emirati women are delighted to have this innovative machine on the market, which will enable them to choose the oils they prefer and blend using the machine to get the perfect blend for their hair care. Some of them considered that the acquisition of this machine is necessary for every Emirati woman who believes that her beauty begins with the perfect care of hair.
The OTM machine will soon be available in several supermarkets across Dubai.