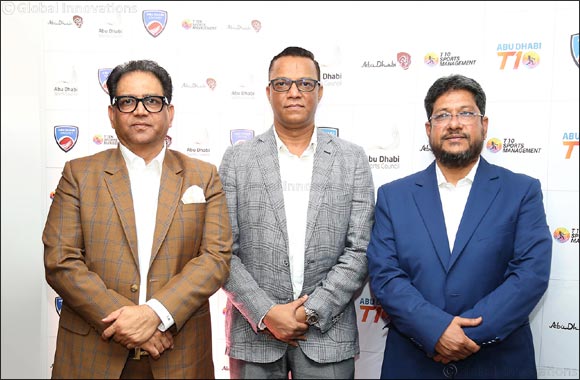 Ownership team promises to add and develop Bangladeshi cricket talent
Dubai, United Arab Emirates - September 21, 2019: Abu Dhabi T10, the world's only ten-over cricket league to be officially sanctioned by the International Cricket Council (ICC) and licensed by the Emirates Cricket Board (ECB), today welcomed its newest team – Bangla Tigers – who are poised to compete in this year's event, which opens on 14 November 2019.
The addition of a marquee team representing the strong cricketing tradition of Bangladesh reaffirms the international flavour of the Abu Dhabi T10, and is sure to strike a chord among the 700,000+ Bangladeshi residents who make up the third largest expatriate community in the United Arab Emirates.

Welcoming the new team and its owners, Shaji Ul Mulk, Chairman of Abu Dhabi T10, said: "You can hardly speak of cricket without mentioning great Bangladeshi players like Shakib Al Hasan and Tamim Iqbal. So, obviously we are pleased to welcome aboard the Bangla Tigers who will certainly represent the best spirit of Bangladesh cricket."

He continued, "It's a testament to the ownership team that their love of cricket led them to really plan and dedicate themselves to joining the league and offering their fans an exciting team to rally behind during the Abu Dhabi T10."
The two owners - Bangladeshi businessmen Yasin Chowdhury and Sirajuddin Alam – leveraged their combined decades-long association with sport together with a lifelong love of cricket in order to make their dream of owning a team a reality.

"It's a proud day for us and I hope for all Bangladesh fans to announce our Bangla Tigers team. We thank the league's founder Shaji Ul Mulk and the other owners and we hope audiences will embrace our team's fighting spirit as we pledge to do our best to compete for the Abu Dhabi T10," said Mr. Chowdhury, Chairman of FMC Group and Owner of Bangla Tigers.

His Co-Owner Sirajuddin Alam brings significant sports management leadership and expertise to the organisation and to the ownership ranks of the Abu Dhabi T10 after serving previously as the founding secretary of the Bangladesh Premier League, former director of Bangladesh Cricket Board and one-time General Secretary of the Chittagong Divisional Sports Association.

His insight into sports development in his native Bangladesh has him hopeful that the Bangla Tigers will compete for more than sporting glory during the Abu Dhabi T10.
"We are working to build a formidable team in which a number of Bangladeshi cricketers are expected to play," Sirajuddin Alam said.
"We know that having a rooting interest in a team that competes and succeeds abroad on a global stage like the Abu Dhabi T10 can really spur the growth of the game among youth and domestic players, so the stakes for us go far beyond a single season."

The ten-day Abu Dhabi T10 opens with a star-studded opening day performance by bigname Bollywood entertainers who will wow the crowd at the host venue, Zayed Cricket Stadium in Abu Dhabi, on 14 November 2019. The final match and the grand finale are set to take place on 24 November 2019.

The fast-action ten-over format of the Abu Dhabi T10 ensures that full cricket matches can be played in 90 minutes – no longer than a football match. Its popularity is underlined by the enthusiastic participation of some of the most bankable names in cricket, including England World Cup-winning captain Eoin Morgan, Shane Watson, Rashid Khan, Andre Russell, Lasith Malinga and Darren Sammy.

Matthew Boucher, CEO of Abu Dhabi Cricket, says, "We heartily welcome the Bangla Tigers to Abu Dhabi and look forward to the enthusiastic response from Bangladeshi cricket fans around the world. We experienced the fantastic Bangladeshi fans during the Unimoni Asia Cup last year and can't wait to host them again!"
Preparation for the Abu Dhabi T10 follows the runaway success of the T10 league's second season which drew sold-out crowds at Sharjah Cricket Stadium and was watched by millions of fans across the GCC, India and South Asia.