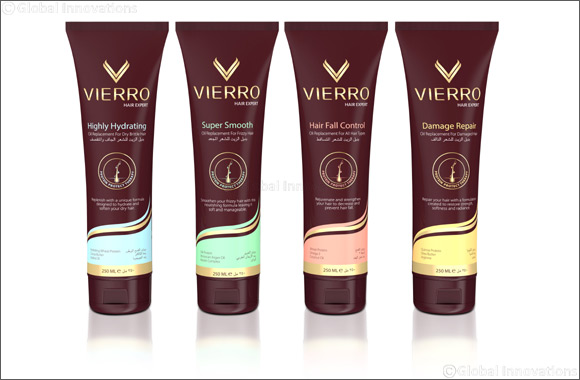 Dubai, United Arab Emirates - 21 July 2019: In a modern, fast-paced life, there's hardly any time for elaborate hair care routines and special treatments, and it's often a struggle to find the right ingredients to nourish hair in the comfort of your home. Knowing this, Vierro's hair experts have combined a set of unique proteins to provide hair with the best nourishment science can offer. Vierro's Protein Protect Therapy technology is proven to protect and strengthen hair from root to tip. It nourishes the scalp with a coated layer of proteins that promote hair growth. A unique blend of rich natural oils and minerals create a therapeutic hydration experience, leaving hair strong, healthy and shiny.
The Oil Replacement range from Vierro is a healthy alternative for beautiful, nourished hair. It is a complete post-wash hair care solution with benefits of natural oils that deeply and progressively nurtures hair, making it healthier and more beautiful over time.
Available in four variants, the range is a non-sticky, lightweight and easy-to-absorb cream that is suitable for everyday use, and should be applied on damp hair and massaged in from root to tip for a couple of minutes, before styling.

Highly Hydrating (AED 11.50)
Infused with Hydrating Wheat Protein, Cocoa Butter and Jojoba Oil, this product replenishes with its unique formula designed to hydrate and soften dry hair. The hydrating wheat protein increases hair's flexibility and elasticity, perfect for conditioning and repairing dry, brittle and damaged hair. Cocoa butter keeps hair healthy, making it smooth, shiny and strong while Jojoba oil moisturizes the hair and its follicles, without leaving any residue. It also aids in accelerating hair cell production at a rapid pace.
Super Smooth (AED 11.50)
This nourishing formula smoothens frizzy hair, leaving it soft and manageable. Silk Protein in the formula replenishes hair by penetrating it and improving its elasticity and works against breakage. It also forms a protective barrier on the hair, keeping it strong and silky. The Moroccan Argan Oil acts as a moisturizer for the scalp and promotes the growth of healthy, strong hair. Keratin Complex coats and penetrates the hair shaft to replace missing keratin in microscopic gaps along the hair shaft, resulting in smoother and shinier hair.
Hairfall Control (AED 11.50)
This formula revitalizes and strengthens hair to reduce hair fall.
Wheat Protein increases hair's flexibility and elasticity, perfect for conditioning and repairing dry, brittle and damaged hair. Omega 3 helps to prevent hair loss and breakage. The fatty acids in omega 3 reduce inflammation and nourish hair follicles, encouraging natural hair growth that keeps hair healthy and luscious. Coconut Oil is rich in anti- microbial properties, lauric acid, and medium-chain fatty acids that strengthen your hair, condition the scalp, and reduce protein loss.
Damage Repair (AED 11.50)
This formulation is created to repair hair, restore strength, softness and radiance. Quinoa Protein in the formula forms a protective barrier, shielding the hair from environmental stresses. It aids in retaining moisture in the hair while providing essential nutrients. Shea Butter is a great moisturizer for dry hair and its anti-inflammatory properties help reduce redness and scalp irritation by providing healing effects, without clogging the pores. Arginine is an amino acid that improves the flow of blood to the scalp and the base of the hair that promotes increased blood circulation to the scalp, in turn increasing hair growth.