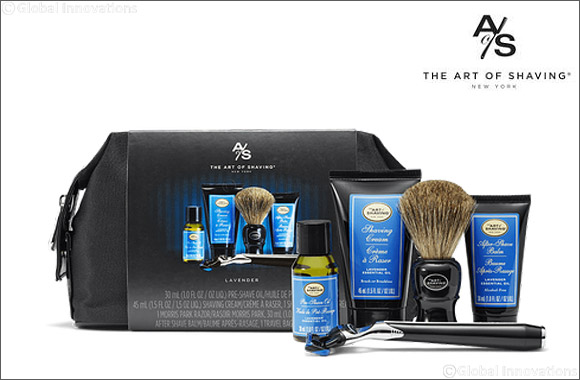 Dubai, United Arab Emirates - 15 July 2019: Summer is here, and travel beckons. Travelling is enjoyable, but far more when done light. Traveling light can save you a lot of trouble and money while giving you extra freedom and flexibility. Its importance cannot be stressed enough, the popularity of travel kits is a testament to this.
Toiletries and grooming is an overarching theme in every man's packing list, because before you know it, you'll be in need of some tidying. When it comes to grooming, The Art of Shaving travel kit is a perfect addition for every gent. With it, you can ensure that you look your best wherever you go. The kit contains an unrivaled set of products to ensure that you experience the perfect shave every time while helping against ingrown hairs, razor burn, and nicks and cuts.
Compact, easily accessible and sized to meet TSA standards, the kit is an ideal companion, fully equipped with a smaller handcrafted brush, Pre-Shave Oil, Shaving Cream and After-Shave Balm. The popular Morris Park travel kit comes with an additional Jet Black Morris Park 5 Blade Razor. The kits come in both scented and unscented formats, the scented ones being Sandalwood and Lavender.
Starter Kit: (one week's worth of essentials)
Pre-shave Oil (.5 fl. oz.)
Shaving Cream Tube (1 fl. oz.)
After-shave balm (.5 fl. oz.)
Trial size genuine badger hair shaving brush
Canvas Zip Pouch
Price: AED 140
Mid-size Kit:
Pre-shave Oil (1 fl. oz.)
Shaving Cream Tube (1.5 fl. oz.)
After-shave balm (1 fl. oz.)
Genuine badger hair shaving brush
Price: AED 279
Morris Park Kit:
Jet Black Morris Park 5 Blade Razor
Pre-shave Oil (1 oz.)
Shaving Cream Tube (1.5 oz.)
After-shave balm (1 fl. oz.)
Black genuine badger hair shaving brush
Price: AED 557