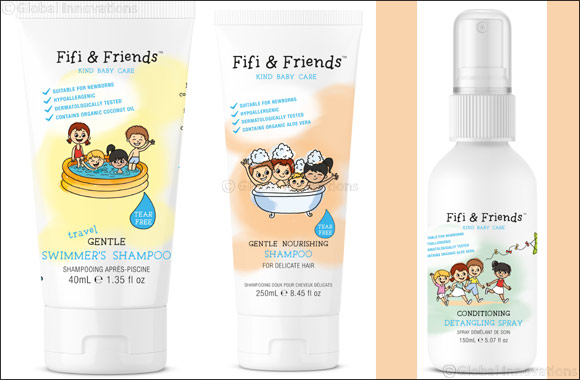 Dubai, United Arab Emirates - 09 June 2019: When it comes to caring for your baby's hair, Fifi & Friends stand out as a favourite among mothers in the UAE, as it keeps both mother and child in mind when creating the right solutions.
Fifi & Friends offer a wide range of natural and effective haircare products that are hypoallergenic, vegetarian (most products are also vegan) and wheat-free, all free from parabens, sulphates, and silicones. Not to mention the tear-free and gentle formula that all Fifi & friends haircare products are made from, which is safe to use even on new-borns and ensures that baby bath time is never a chore.
Here are some of the best-selling haircare essentials from Fifi & Friends:

Gentle Nourishing Shampoo – for delicate hair (AED 60)
This gentle baby shampoo infused with organic Aloe Vera cleanses and nourishes, for heathy and shiny hair, ensuring happy eyes with the brand's tear-free formula.

Gentle Nourishing Conditioner – for delicate hair (AED 60)
This gentle baby conditioner is infused with organic Aloe Vera and Avocado Oil to condition and detangle hair for a healthy and fresh finish.

Gentle Taming Shampoo – for curly hair (AED 60)
A softening baby shampoo that cleanses and hydrates frizz and knot-prone hair, taming even the wildest tresses and ensuring happy eyes thanks to its tear-free formula.
Gentle Taming Conditioner – for curly hair (AED 60)
This nourishing creamy conditioner made with organic Aloe Vera fights the frizz and is tough on tangles, for healthy bouncy locks.

Conditioning Detangling Spray - (AED 52)
This light detangling spray with organic Aloe Vera is known for its conditioning and soothing properties. It makes the process of combing easier and results in nice flowing locks. Brushing out your little one's knots has never been kinder.

Gentle Swimmers Shampoo – (AED 69)
This gentle swimmer's shampoo cleanses and conditions dry hair post-chlorine exposure, leaving locks soft, healthy and refreshed.