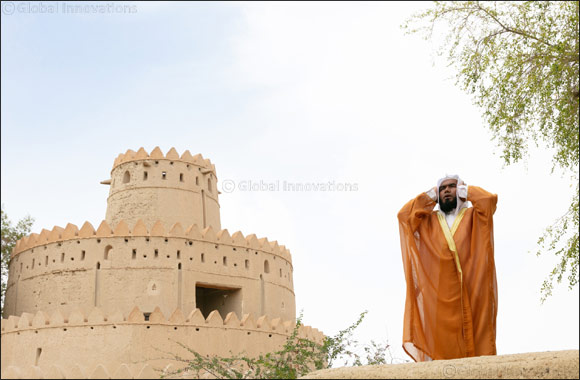 Abu Dhabi, May 27, 2019: Fittingly for the Holy Month of Ramadan, this week has seen the return of the traditional call to prayer to the historic Jahili mosque in Al Ain.

The prominent location of Al Jahili Fort, at the centre of the city, and its landmark status, is such that its buildings, including the mosque, have come to symbolise the traditional architecture and cultural heritage of Abu Dhabi.

The historic mosque consists of a single room with an open arcade on the east side entered from an enclosed courtyard. It is a historic building constructed with earth blocks and palm log beams and probably dates back to the foundation of the fort in the 1890s. Within the courtyard there is a low platform from which the call to prayer was traditionally made.

Recent work by the Department of Culture and Tourism – Abu Dhabi (DCT Abu Dhabi) has provided simple cooling measures inside the mosque and a fountain nearby for ritual ablutions. DCT Abu Dhabi has collaborated with the General Authority for Islamic Affairs and Endowments to provide an imam for the mosque, and it will now operate announcing the call to prayer in the traditional manner from the raised platform.

'The mosque of Al Jahili Fort is an historic piece of local architecture, built to adapt to the nature surrounding it, the local climate and the needs of its worshippers," said Jaber Saleh Al Merri, Historic Environment Director at DCT Abu Dhabi. "The mosque was built at the same time as Jahili Fort, the largest earthen fort in Al Ain, and the site was initially used as the residence of the Sheikh Zayed the First, before going onto become a base for the armed forces. The mosque has evolved alongside the fortress, and we have maintained the original fabric of the building to serve as living proof of the architecture and lifestyles of this period in our history."

Nasser Mohammed Al Ma'amari, Branch Manager of the General Authority for Islamic Affairs and Endowments in Al Ain, said: 'Based on the General Authority for Islamic Affairs and Endowments' desire to maintain the religious heritage of the UAE and its deep belief that our nation's history is a vital part of our national identity, the opening of the Jahili Heritage Mosque in cooperation with the Department of Culture and Tourism - Abu Dhabi, is a living example of how our mosques used to appear.
In this context, DCT Abu Dhabi provided all the requirements of how the mosque should look, from the carpets to the copies of the Quran. Once all specifications were met, daily prayers were able to be held in the mosque, which now take place without the use of loudspeakers, to reflect past Emirati traditions."