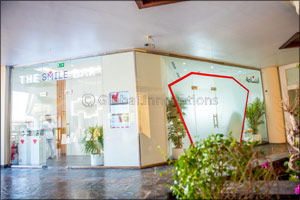 With Father's Day around the corner, what better gift to give dad than the gift of a brighter smile.
Dubai, United Arab Emirates - May 27, 2019: Smiling is an important and enjoyable part of life, so if you're thinking of a Father's Day gift, think about his brighter smile. An appointment with one of The Smile Bar's highly trained smile attendants will detail exactly what he needs. It is the go-to place for pain-free, quick teeth whitening. A trip to The Smile Bar for a relaxing and painless session will be the perfect gift to show him you care in a very special way.
To make it even more special, The Smile Bar is offering a double teeth-whitening session just for you and your dad at 50% of the price. For only AED 700, you can share the experience with your father for a memorable Father's Day. This offer is available throughout the month of June.
The Double Teeth-Whitening session includes 2 x 20 minutes of easy and effortless teeth whitening services in a very relaxing spa environment.
The Smile Bar is an exclusive dental whitening treatment centre for men and women that offers quick, pain-free teeth-whitening treatments with amazing results.
Other treatment packages at The Smile Bar include Single Whitening (1 x 20 minutes at AED 290), Triple Whitening (3 x 20 minutes at AED 850) and Premium Smile Bundle (12 x 20 minutes, AED 2,900).