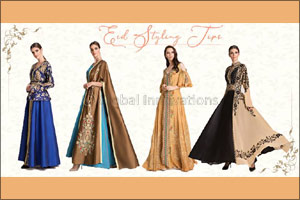 May 27, 2019 - Dubai, UAE
Stay rooted to cultural ethnicity yet fashion forward when it comes to festive dressing as Diva Abaya Couture; region's leading name for designer Abayas lists fashion edits to inject grandeur in your Eid festivities.
Colour me sober: Romancing with shades of elegance isn't new when it comes to designing Abayas. This festive season get ready to be modest and glamorous as the colour palette goes suave with shades like mint green and butterscotch beige! Soothing to the eyes and comfortable to the skin, these shades are here to offer versatility when it comes to accessorizing festive looks. For those who love it bold, the grandeur in maroon can be highlighted with gold accessories. There's also iced blue that stays true to conventional dressing and yet gives you and your overlays a very on-trend and contemporary feeling. From rich jewel-toned accessories to regal robe cuts, the blue gives a nod to experimental styling! Ultra-feminine and sophisticated are shades in dusty pink and peach. Leverage it with turtlenecks for stark contrast and team it up with metallic heels for chic evening looks. The classic black can never go out of style as designers keep experimenting with layering, cuts, pleats and lengths; to offer novelty in styling.
Vivid styling: Wondering what new do Abaya designers have to offer? Treat yourself to unique styles that keep the modesty quotient intact and yet provide the most fancy and elegant looks. By incorporating ruching, pleating and fringing of fabrics; designers have introduced an element of fashion that's in vogue, wearable and trendy. Modern minimalism in ankle length Abayas is recommended for a stylish combination of comfort meets fashion. For the love of social media, set your Instagram feeds buzzing with the spotlight on puffed shoulders, crystal embellished belts and coat collars with inverted pockets. These modern patterns are no doubt fancier but keep intact the reason and purpose of wearing Abayas. Fancy hues, offbeat tailoring and contemporary styling sure adds a spark to Eid dressing.
Modern embellishing: What are festivities without glitter and shine? Your festive overlays can go anything from sophisticated to bold as designers unleash their creativity with embellishments. Big sized buttons are worth a shot as they comes across power-packed and evolved. Designing with pearls, no matter how traditional, have come around fancier to offer you the right choice for Eid dressing. Coloured stones and crystals are in tune with the rich approach that festivities like Eid demand. Jewel tones ranging from jade, ebony, and blue to amethyst, sapphire and emerald; take shape in intriguing patterns for elite dressing. For the ones who love it unconventional, feathers, tassels and fishnets are a unique solace to seek. With emphasis on the cuffs, shoulders, collars and at the back of the Abaya, designers ensure a clear projection of fashion meets festive needs, this Eid.
Fab fabrics: Traditionally, Abayas have been designed in chiffons, laces and crepes but Eid demands being lavish and attractive. Claim your festive fame as the fashion edit in various materials is here to leave you spell bound. Be it the glitter organza, bling brocade or taffeta; each one is going to make a big buzz this Eid. Soft nets and bubble crepes are different fabrics to try with Abaya in modern day. Printed pleats and a combination of 2-3 prints together offer evolved, current and on trend looks to go with the spirit of the season.
Whether you want to wear them solo or nail it further with head-turning accessories; billowing Abaya features are here to accentuate your festive looks!