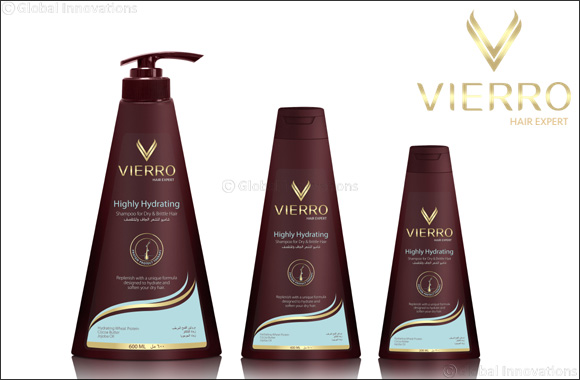 Dubai, United Arab Emirates - May 26, 2019: Hydrating the hair is all about getting proteins, amino acids and critical vitamins to penetrate the hair fiber, thus improving the absorption of water and nutrients so that hair is able to hold and retain moisture.
In the Middle East, especially during the summer months, exposing your hair to too much sun, wind, chlorinated water, desalinated water, and even dry air, strips hair of all its moisture, making it dry and brittle, which is why you need to use haircare that is packed with everything your hair needs for healthy growth, even under horrid conditions.
Vierro's hair experts have crafted a combination of the most unique proteins providing your hair with the best nourishment science has to offer. Its Protein Protect Therapy is a newly designed technology that strengthens and protects hair from root to tip. It nourishes the scalp with a coated layer of proteins which promote hair growth. A unique blend of rich natural oils and minerals create a therapeutic hydration experience, leaving hair strong, healthy and shiny.
Using Vierro's Highly Hydrating range will give your hair the necessary ingredients for health, while its conditioners lock nutrients in and keep pollutants out.
Thanks to its unique formula designed to hydrate and soften dry hair, the Highly Hydrating range replenishes hair from root to ends and increases your hair's manageability, smoothness and shine with its star protein ingredients:
Hydrating Wheat Protein

Style without stress! Hydrating wheat protein increases hair's flexibility and elasticity, perfect for conditioning dry and brittle hair and repairing damaged hair.
Cocoa Butter
Cocoa butter brings out the best in hair! It not only helps keep your hair healthy but makes it smooth, shiny and stronger than ever before.
Jojoba Oil
Jojoba oil moisturizes your hair and its follicles without leaving any residue. It accelerates hair cell production at a rapid pace.
Shampoo available in 600ml (AED 19.50), 400ml (AED 14.75), 200ml (AED 8.50)
Conditioner available in 400ml (AED 11.50)
Oil Replacement available in 250ml (AED 11.50)