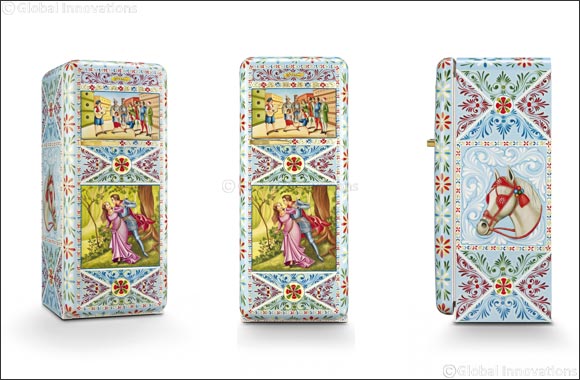 Dubai, United Arab Emirates - May 13, 2019: Better Life recently unveiled the unique and exclusive Dolce & Gabbana Fab28 hand painted Smeg refrigerator with the theme "Blind Love". The fridge is among 100 unique fridges with each with a unique design a story behind it. This exclusive piece is on view at Better Life Showroom in Mall of the Emirates.
'Blind Love' is inspired by the exploits of the paladins of France, and accentuated by whites, blues, reds and greens that characterise the traditional Sicilian cart decorations. On the front panel are scenes from the Sicilian poetic marionette theater. The sides feature two horse heads in full regalia. The top reinforces the colourful friezes that dominate the entire surface.

The event which was held at the ESAG Design Hub at d3 also revealed the newest collection of the Dolce & Gabbana Smeg small appliances range – a blender themed "Sicily my love."
The event also included Smeg Avocado toast station using Smeg toasters. The guests participated in making avocado toast and two winners were chosen. The smoothie station using Smeg blenders offered healthy smoothies to the guests. Besides attendees could also sip on tea or coffee made in Smeg appliances.