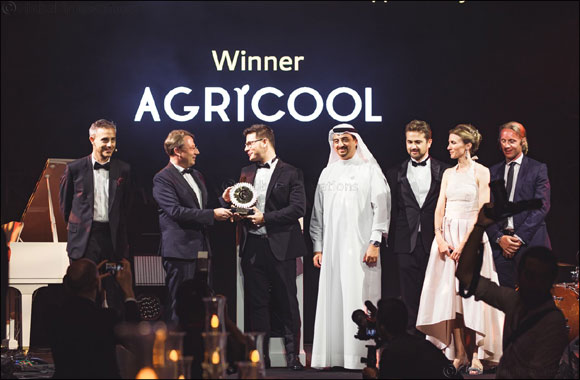 Memorandum of Understanding signed about Expo 2020
Gala diner under the theme of the French Pavilion at Expo 2020: Lights, Enlightenment
French Business Council Business Award ceremony
Very high levels representatives from both sides among them 2 Ministers
United Arab Emirates – May 7, 2019 - In the presence of H.E. Omar Bin Sultan Al Olama, Minister of State for Artificial Intelligence in the United Arab Emirates, the French Minister of Transport, Elisabeth Borne, and H.E. Ludovic Pouille, French Ambassador to the UAE, the annual gala dinner of the French Business Council in Dubai & Northern Emirates, held on May 2nd at the iconic venue of Dubai Opera, celebrated United Arab Emirates and France common vision of building knowledge-based economy that harness innovation and improve the lives of their citizens.
This year's Gala dinner was attended by more than a thousand guests, including local officials such as H.E. Najeeb Mohamed Al-Ali, Executive Director, Bureau Expo 2020, H.E. Majid Saif Al-Ghurair, Chairman of Dubai Chamber of Commerce & Industry, H.E. Hamad Buamim, President & CEO of Dubai Chamber of Commerce & Industry and President of the Dubai Chamber and of the World Chambers Federation, as well as H.E. Mohamed Ali Musabbeh Al Nuaimi, Chairman of RAK Chamber of Commerce and Industry, and other local and French senior representatives.
The celebration of the Gala dinner was held under the theme of 'Lights, Enlightenment', inspired by the French Pavilion named "Lumière, Lumières" and representing France at the 2020 World Expo. It aims to shed light on 'fast-track transfer' and embodies the 'Lights' concept. Initiated in France as early as the Eighteenth Century, it symbolizes exchange and transfer of knowledge. It reflects how France prevailed in many fields over centuries: arts, philosophy, culture, research, entrepreneurship and innovation.
The evening started with a MoU signed between the French Business Council Dubai & Northern Emirates and Cofrex (Compagnie Française des Expositions – in charge of the French Pavilion at Expo 2020) in the presence of Elisabeth Borne, French Minister of Transport. This partnership agreement aims to develop synergies between the French Business Council Dubai & Northern Emirates and COFREX/France Pavilion to promote France before and during the 6 months of Expo 2020 by mobilizing the actors present in the country (companies, institutional partners, etc.) around joint projects.
Speaking at the celebration dinner, Mr. Geoffroy Bunetel, President of the French Business Council Dubai & Northern Emirates stated: "We are now entirely "On the Road to the Expo" to contribute to making this event a big success for Dubai and to help France shine the way it deserves to."
During the evening, the French Business Council Award 2019 – Opportunity, winner, Agricool, has been rewarded for its involvement in developing urban farming. The company is a French startup revolutionizing AgTech, grows pesticide free, local and delicious fruits and vegetables in recycled containers calls "Cooltainers", that you can find in The Sustainable City.
Sponsors and success partners of the annual event – including Diamond Sponsors FedEx, Chalhoub Group, Michelin and Schneider Electric – highlighted their long-standing experience and their respective activities during the whole evening.