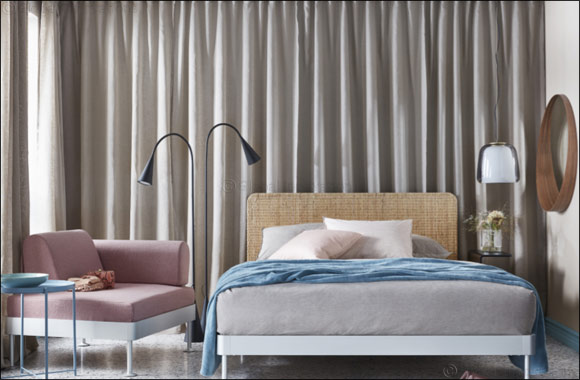 Dubai, UAE, March 21, 2019: About a year ago the first part of DELAKTIG was launched: a platform for living for you to customise and adapt to all the twists and turns of your life. Now it's time for part two. Together, IKEA and industrial design icon, Tom Dixon, have designed the one piece of furniture you might ever really need in life...
"We called it an open platform for living, and Tom kept referring to it as a bed, so of course we couldn't stop after the first DELAKTIG launch. The bed is a key piece of furniture in any home – I mean, everyone needs a good night's sleep. So we decided to go for a second launch: a bed frame that is designed to be personalised."
So, the team simply couldn't stop after the first launch of DELAKTIG. What would take the open, knock-down aluminium platform for living to the next level?
Launching February 2019, the DELAKTIG bed frame is a distinct continuation of its seating series; open for personalisation and transformation. Available in a queen size, with your choice of mattress, it's a platform ready to be customised according to personal comfort and style. Just like with the rest of the DELAKTIG collection, you add, remove and swap around its accompanying accessories to suit your way of living, or in this case, sleeping.
Covers that last
Along with the new DELAKTIG bed frame and headboards, there is also a cover update for the exisiting platform. With a higher resistance against abrasion and colour-fading, this has allowed DELAKTIG to move into new, exciting territories. Perhaps the DELAKTIG platform could be the perfect fit for your new office, hotel or reception area?*
Say hello to three new DELAKTIG colours: dusty pink, soft beige and stone grey.