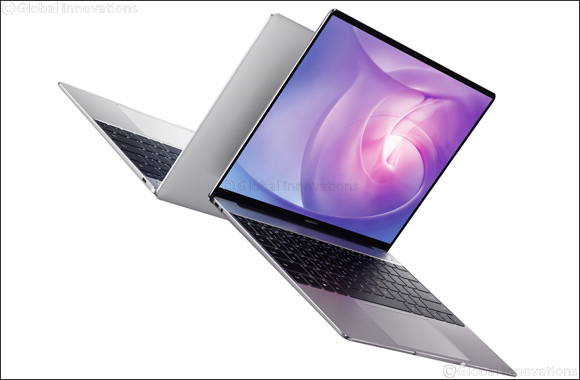 Pre-orders for this next-generation notebook start today March 6th
Dubai – UAE, 6 March 2019: During the long anticipated Mobile World Congress (MWC) that took place in Barcelona, Spain last week, Huawei officially announced the launch of the first product under the new series of flagship ultra-books, the all-new HUAWEI MateBook 13. The company's ultra-portable, stylish lightweight 13-inch notebook will be available for pre-orders for consumers in the KSA starting from the 6th of March and offers an array of exceptional features combined in one device to enable and inspire next-generation productivity. Artistic, innovative and intelligent, the new HUAWEI MateBook 13 boasts a FullView display screen, an Ultra-slim design and lightweight body, as well as intelligent wireless data sharing through OneHop feature, in addition to its high performance, extreme portability, great build quality and stylish look.
While the growth for laptops has been steady, ultra-thin notebooks are booming, with 13-inch notebooks with a high screen-to-body ratio, trendy design, high resolution display, discrete GPU, high performance fingerprint sensor-integrated button will be the main driver of mainstream demand. And Huawei's new range of notebooks with full-fledged innovative features did not disappoint, setting yet another successful year for Huawei at MWC. At the event, Huawei received several accolades for its continuous contribution to pioneering technologies and innovations, including "Best New Connected Mobile Device at Mobile World Congress 2019", "Best Smartphone" for the HUAWEI Mate 20 Pro and "Best of MWC 2019", just to name a few.
The new HUAWEI MateBook 13 is the latest mainstream notebook targeting a young audience that looks for that perfect balance between style and innovation, such as graduates and young professionals who are always on the run and are looking for that device that is sure to let them stand out. It redefines the standard for display, performance, cross-platform interconnection in the 13-inch mainstream notebook segment. The device will revolutionarily support intelligent interconnectivity between smart devices and PCs, redefining how devices can interact and connect with each other.
Seeing is Believing
HUAWEI 3:2 FullView Display with 10-point multitouch option delivers more than an impressive screen; it brings to life a fully immersive visual experience. With an 88% screen-to-body ratio, the HUAWEI MateBook 13's slender 4.4 mm bezel makes more room for bright, rich, and vivid graphics to ignite your imagination.
Body & Soul
With its Ultra Slim Body weighing as light as 1.3 kgs, the HUAWEI MateBook 13 is a device for the young users and those on the go, who are always out and about yet want to be connected, without compromising on style. Lightweight yet robust, the HUAWEI MateBook 13 is designed for optimal portability. Its slim line 14.9 mm metallic frame is meticulously crafted with a diamond cut finish on each corner, giving it an ultra-modern premium look and feel. A powerfully elegant machine.
Intelligent Sharing by OneHop File Transfer
Transfer videos and photos via NFC with a single tap from phone to PC*. Upload 500 photos** in 1 minute and 1 GB of video in 35 seconds***. If your images contain text, the HUAWEI MateBook 13 can extract the words from the image for easy editing. The improved cooling performance of the fans let the notebook stay cool and silent even when running intensive processes. It also supports the intuitive three-finger gesture for screenshots. Solving the typical user pain point that is data transfer between PCs and Android smartphones, HUAWEI MateBook 13 features the upgraded HUAWEI OneHop File Transfer, completing the all-scenario experience in which devices from PCs to smartphones is connected.
The innovative features of the HUAWEI MateBook 13 are prompted by shifting consumer preferences, requiring devices to become increasingly mobile, and with them their users as well. Huawei is committed to delivering reliable, high-quality and advanced products to its consumers. The HUAWEI MateBook 13 will enrich and improve the all-scenario experience across devices, providing more users with the ultimate experience.
Price and Availability
The Matebook 13 will be available in three different versions, One is powered by the 8th Generation Intel Core i7-8565U processor and boasting 512 GB SSD, with GPU NVIDIA GeForce MX150 (2GB), touch screen, Gray Color at a price of SAR4999, another version is powered by the 8th Generation Intel Core i7-8565U processor and boasting 512 GB SSD, Gray Color at a price of SAR3999 and a third version powered by Intel Core i5 8265U and boasting 256 GB SSD, Silver Color at a price of SAR2999, both of which are equipped with Intel UHD Graphics 620, Quick charge, 2MIC/2speaker +Dolby ATMOS and 8 GB RAM, 24 months warranty.
The KSA pre-orders for the HUAWEI MateBook 13 will start on the 06 of March and the product will be available on-shelfs for consumers to have a hands-on experience in Huawei Experience Stores and select retailers starting March 14.